(Trinidad Express) – Two teenage brothers of Aranguez were stabbed to death on Sunday as they attempted to defend a friend from cell phone thieves.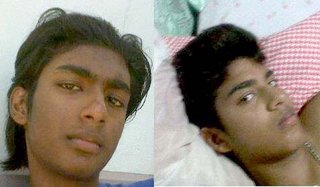 Arshad Kadir, 15, and Jafar Kadir, 17, both of Ward Lane, El Socorro Road, were stabbed at the Aranquez Savannah where they were playing a game of football with friends.
The boys are sons of Kaleel and Fazeela Kadir, owners of Bunty's Muffler Service in El Socorro.
Another of the brothers' friends, Kaleel Mohammed, 16, was stabbed in the chest, but survived.
The attack happened at around 6.30 pm when two men approached Imitiaz Boodoo, a friend of the brothers, and attempted to snatch his Samsung cell phone.
"The men appeared from nowhere, but the field had other persons jogging and playing football. Arshad saw first and ran to help, then Jafar went over. A fight broke out on the field. One of the two men began to stab them," said a close relative of the deceased, who did not wish to be identified.
Arshad was stabbed in the groin area and Jafar was stabbed through the lungs and heart. The attackers escaped.
The three boys were rushed to the Eric Williams Medical Sciences Complex at Mount Hope.
Arshad and Jafar both died by 10.30 p.m.
Arshad attended Brataria Secondary Comprehensive School and Jafar attended San Juan Government Secondary School. They were to be buried yesterday.
Around the Web