(Trinidad Express) Escaped murderer David John Pierre, 33, remained at large last night after escaping from Carrera Island Prison on Sunday.
In October  2002, Pierre, who was then 22 years old, was found guilty of killing 52-year-old Chanker Mootilal. He was sentenced to death by Justice Melville Baird.
According to the State's case, at around 11 a.m. on February 28, 2000, Pierre got into a taxi driven by Mootilal at Sangre Grande.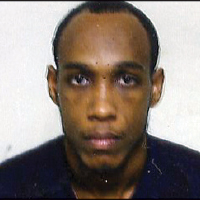 On reaching the 3 3/4-mile mark along Toco Main Road, Vega de Oropouche, Pierre slit Mootilal's neck with a knife.
Mootilal handed over money and Pierre cut him again. He then ordered another passenger to take Mootilal into some bushes at the side of the road and throw him into a pond.
Pierre took Mootilal's car and headed to Port of Spain, where he was held by a Traffic Branch officer after a high-speed chase along the Priority Bus Route. Mootilal died at hospital.
Pierre is described as brown in colour, 172 centimetres tall, 60 kilogrammes in weight, with a long face, brown eyes, low cut hair and slim build.
He has a small scar on the forehead and left cheek, a tattoo of the name "Janelle" on the upper right arm, a tattoo of a heart on the right forearm, a long scar on the right side lower abdomen, small scar on the left lower abdomen, a long scar on the centre of the back, and burn marks at the back of the neck.
Pierre is of mixed descent, a Muslim, and worked as a welder before his arrest. He is single with no children and his last known address is Eden Lane, Success Village, Laventille.
Around the Web