(Jamaica Observer) MONTEGO BAY, St James — Member of the United Kingdom House of Lords Baroness Nuala O'Loan has expressed alarm over the reported high number of fatal shootings by the Jamaican police.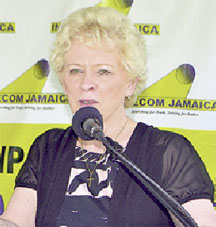 "In this beautiful country, somebody is shot dead almost every day by the JCF (Jamaica Constabulary Force), whose role is to protect the citizenry," bemoaned Baroness O'Loan."
"There is an unparalleled level of police shootings in Jamaica," she added.
She cited figures in a 2002 paper presented by the local human rights group Jamaican for Justice, which showed that "police killings of civilians were running at around 150 a year."
"In the 10 years since then that number has almost doubled. In 2011 there were about 210 shootings, in 2012, 219 police fatal shootings and between January and June this year there were 147 fatal shootings by police," lamented Baroness O'Loan.
"What is happening? When men, women and children are dying in these numbers, shot by the police, it is clearly important to find out what is going on," she further argued.
Baroness O'Loan said she has worked across the world, even in places like Liberia and in Timor Leste when there was an attempt to assassinate the president, yet she has not seen police fatal shootings in the numbers as she has seen them here.
Baroness O'Loan, a former police ombudsman of Northern Ireland was speaking in Montego Bay over the weekend during an Independent Commission of Investigations (INDECOM) Open Day held at the Old Hospital Park.
She underscored the need for a thrust by INDECOM, to not only identify the cops involved in shootings, but also their commanders.
Around the Web