(Trinidad Express) Law enforcement officers spent Monday night in and around the Beetham Gardens, Port of Spain, to ensure that commuters entering the city today would not be blocked.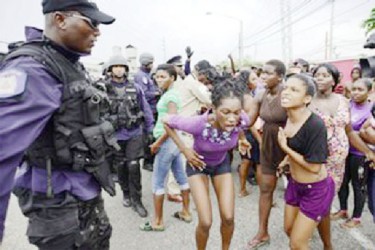 The officers were visited by National Security Minister Emmanuel George who called into a radio programme to thank them for "going beyond the call of duty, to ensure that the rest of the population had access to the Beetham Highway and Priority Bus Route".
Law and order broke down in the area on Sunday night after residents reacted with rage following the police killing of resident Christopher Greaves.
Police claimed Greaves had a 9mm handgun when he was confronted and shot.
Residents said the police officer chased and shot Greaves multiple times, then prevented anyone from helping him. Greaves was pronounced dead on arrival at hospital.
The killing led to a placard protest on Monday morning that exploded into violence with debris being strews across the PBR and Beetham Highway and vehicles being damaged by bottles and rocks thrown from the low income housing development located east of the city.
Police and soldiers responded by swarming the area, and with National Security helicopters providing cover, fired bullets and tossed tear gas canisters to break up the crowd.
George said the police had no choice but "to use very strong tactics to bring a level of control and stability to the area".
He said that while he was saddened by the killing of Greaves and understood the feelings of the residents, they had no right to endanger the lives innocent persons going about their legitimate business.
He said "if the people of Beetham have an issue, there is a way their concerns can be brought to the authorities. I have been saying, no matter which ministry portfolio I hold, that we need to stop the burning of tyres and the blocking of roads".
He encouraged residents to form a delegation and said he would meet with the group.
"This is the way we should operate in a civilised society", George said.
The killing of Greaves is being investigated by a senior officer, and separately, by the Police Complaints Authority. George said the police acted appropriately on Monday.
He said "from my observation, you cannot blame the police for the escalation of what happened (Monday). The police has shown considerable restraint every time situation like these occurred…I support them in that regard".
The Beetham area was reported to be quiet yesterday.
Around the Web