(Trinidad Express) Trinidad national Ravindra Ramrattan was among several people killed in a terrorist attack and siege at a Kenyan shopping mall that entered its third day today.
Ramrattan, who was awarded the President's medal gold in 2002, was living and working in Nairobi, Kenya since September 2011. He was employed as a research economist.
It was reported that several people were killed and many others held hostage in an upscale shopping mall in Nairobi where al-Qaeda-linked militants attacked.
The Red Cross in Kenya said the death toll in the attack at Narobi's Westgate Shopping Mall was at least 68.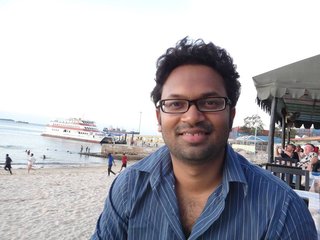 The Kenya Defence Forces posted on its Twitter account last night that "most of the hostages have been rescued" and that four security forces had taken control of "most parts of the building."
Ramrattan, of Monroe Road, Cunupia, attended Presentation College, Chaguanas. He attained distinctions in mathematics, chemistry, physics and general paper at the Advanced Level examinations and was named President's gold medal winner.
Teachers and pupils were informed of his passing this morning.
Principal Gary Ribiero said, "This morning we told the pupils at assembly and we had a moment of silence in his memory. At 11am, we are having a function for all scholarship winners and we will have a moment of silence for him. His photograph was placed on the corridor for all to see him. The pupils and teachers were saddened by his death. The school flag is at half-mast," he said.
A Facebook page was created in memory of Ravindra Ramrattan last night.
An invitation was extended to Ramrattan's friends and relatives to attend a service at the Buddhist Temple in Nairobi.
The Facebook post states, "Please join us this evening at the Buddhist Temple in Nairobi, starting at 5pm, to remember him and his incredible presence in our lives. Feel free to invite all those whose lives have been touched by him and who may want to attend."
Around the Web