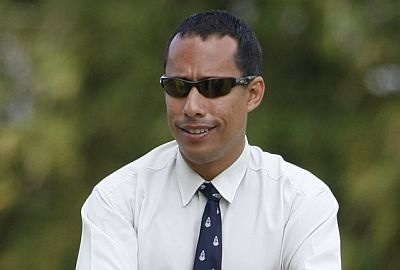 Griffith spoke after Cabinet yesterday, after the accusation was first made by PNM Senate leader Pennelope Beckles during her contribution to Wednesday night's conclusion of the 2014 budget debate. T&T Guardian investigations indicated that the work is being done on a Port-of-Spain police station and has been going on for several months.
The gang member alleged to be heading the work is known to be "in charge" of certain elements in the area, reliable sources said. They added that the situation has raised concerns among some police officers. Housing Minister Roodal Moonilal, who is the line minister for the Urban Development Corporation (Udecott), confirmed yesterday that Udecott presides over the building of police stations, but is not involved in the process of sourcing contractors to repair them.
Former minister in the Ministry of National Security Donna Cox and former minister in the Ministry of Works Nileung Hypolite both said yesterday that since the police now have their own budget, the normal process for repairs on police stations and similar tasks involves the police commissioner's office identifying the job to be done.
They said a tendering committee within the Police Service will usually issue at least three tender documents for at least three tenders. The committee will then take the cheapest but most reliable one, Cox and Hypolite both said. Beckles, who spoke about the police station contract in her budget contribution, was commenting on earlier declarations by Griffith, who had said no government contracts would be issued to gang members.
Beckles said she was "pretty impressed" with Griffith's salvos, adding she sometimes got in trouble for saying these things. She said she hoped Griffith would follow through with his statements. She also cautioned him, "You should also be careful of those who say you're doing great and not to worry, those who are blowing your trumpet."
On Griffith's statements that gangsters would not get government contracts, Beckles urged caution, noting the police recently had a meeting with gang members to try and broker peace. She also said gang members get contracts for work, adding, "As we speak, one gang member has a contract to repair a police station." "You serious?" said PNM senators. Beckles said she wondered if Griffith would probe that contract and end it now that he was minister.
But she said Griffith had to be careful in speaking without facts, and gang members also had families to feed. "You have to be careful with the speed with which you take decisions also," she warned. "You're not dealing with tendering of contracts, so when you say they won't get contracts, you don't have the authority to deal with tenders and the like. Be careful what people are telling you, as it's not that simple."
Contacted yesterday, Beckles said: "This is a very sensitive matter and having regard to Mr Griffith's intent, which is laudable, I'm asking him to probe this matter of a police station being repaired via contract to a gang member. I've done so simply because he indicated that is an approach he will take as a method of dealing with crime." Also contacted yesterday, acting Police Commissioner Stephen Williams said he hadn't yet heard Beckles' statement and would wait to see reports on it.
Griffith confirms contract
Speaking to the T&T Guardian after Cabinet yesterday, Griffith—who declined to identify the police station under repairs—said there are indeed gang members who have state agency contracts. "I don't even have to investigate…I know for a fact that is so," he said. "And they would be using these same contracts to get profits and use that same profit to acquire more guns to attack the same police who we're asking to protect and serve."
Saying he intends to plug that artery, Griffith said: "If they intend to continue that life of crime and use their profits from contracts for this, we'll have to pull the plug on that. "There is a watch list and I intend to change this to blacklist such persons. This isn't a witch-hunt. If people move away from a life of crime and we have no evidence on them, that's different.
"But if they want continue to pursue their activities and use profits from government contracts to purchase more weapons and be involved in drugs and hire gang members to commit mayhem, I'll pull the plug on that," he said.
"So we have people on a watch list and I intend to have them blacklisted. If we're aware that organised crime has an avenue to acquire funds to continue their trade, my job is to cut that artery and dismantle these gangs…we'll be indirectly aiding and abetting criminal activity in providing them with assets and finances to get contracts if this continues.
"I'm not into the Robin Hood type of lifestyle, where people say they're doing this to aid the communities, as they're not. What they're doing is using these profits to hire gang members and purchase guns and drugs and it's causing  chaos in the community. "If they want to use it in a different positive way, drop their weapons and move forward with their life, I don't have a problem with that, but if they intend to continue—no."
PNM's Cox, who said gang members are also being hired in the Community Environmental Protection Enhancement Programme (Cepep) and by government ministries, called on Griffith to "talk to your colleagues first if you're serious about fighting crime."
Works Minister Suruj Rambachan, whose ministry handles segments of the Unemployment Relief Programme (URP) project, said in the URP, companies bid for contracts. Asked if there were screening procedures to prevent infiltration by undesirable elements, he said if people applied for work, it had to be considered.
Congress of the People (COP) MP Anil Roberts said when people came to constituency offices seeking assistance, "nobody walks with a stamp on their forehead that they're a gang member. As MPs we're here to help those who seek help within our means." Asked if he would support Griffith's crackdown on gang members, Roberts said: "I support his efforts. He's trying to make T&T better so whatever help I can give, I will."
He said the PP had proposed the Constituency Development Fund, allowing MPs' divisions $10 million each to assist constituencies, "but the PNM doesn't support it…"
Around the Web