(Trinidad Express) Canadian High Commissioner Gerard Latulippe said on Sunday he was "deeply offended" by Opposition MP Colm Imbert's "personal attack" on him in Parliament on Friday.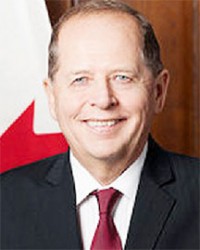 "Mr Imbert's Google-based speech in an irresponsible manner tarnished me personally, and my reputation as representative to Canada," Latulippe told the Express in an interview at his residence in Maraval.
Imbert moved a motion in Parliament on Friday calling on the government to terminate all contractual arrangements with controversial Canadian construction firm SNC-Lavalin. In his speech, Imbert said Latulippe had been Solicitor General for Quebec and resigned in 1987 because of "allegations of conflict of interest and improper practices".
While Latulippe was Solicitor General (also known as the Minister for Public Security), the law firm at which he previously worked was alleged to have been awarded contracts from his ministry totalling Cdn$83,000.
"I never resigned for conflict of interest; never for a breach of integrity, but rather because of my integrity. I resigned as minister for an appearance of conflict of interest. I wanted the democratic institutions to be completely free to do work and investigate whether the contracts were given according to the law. I did not want it to be seen that as minister I could have intervened. The facts presented (by Imbert) are not accurate, not complete," Latulippe said.
He said after he resigned, a parliamentary committee was appointed to investigate the matter. The contracts that had been awarded were submitted and the committee found every contract was granted correctly, according to rules, he added.
Latulippe said the experience was one of the worst of his life, and after that he decided to leave politics.
"What I see today is a precedent that a diplomat doing his work as a representative of a country for the reason of doing his work and duty is personally attacked for reasons related to internal politics. I have been all my life in public space. When you do that you face… small politics. So the price is to accept to be attacked, even personally. In T&T, what matters to me is to support and enhance if possible the strong relationship between this country and Canada," he said.
He said he had not spoken to Imbert since the MP's Parliament presentation, but he noted that he had invited Imbert for a meeting to explain the findings about SNC-Lavalin by the Canadian Commercial Corporation (CCC).
"He refused. I was surprised; I believe in a democracy it is important for both the government and Opposition to have an understanding of all the angles. If he had accepted he could have also asked by about what he found on Google," Latulippe.
Around the Web