CARACAS (Reuters) – Venezuelan President Nicolas Maduro said yesterday he was expelling the top US diplomat in the South American nation and two others, accusing them of meeting with opposition leaders and encouraging "acts of sabotage" against his country.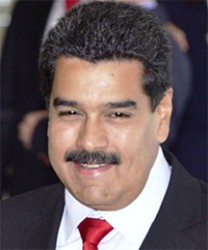 It was the latest of several public disputes between the socialist leader and the United States since Maduro won an April election following the death of his mentor and predecessor Hugo Chavez.
Maduro said Venezuelan authorities had for months followed the three US diplomats, and that he had now given them 48 hours to leave the OPEC member country.
"We detected a group of US embassy officials dedicated to meeting the far-right and to financing and encouraging acts of sabotage against the electrical system and Vene-zuela's economy," the president said in a televised speech.
"I have the proof here in my hands," Maduro added. "… Yankees go home! Get out of Venezuela! Get out of here! I don't care what actions the government of Barack Obama takes."
He said Venezuela was expelling Kelly Keiderling, who as US Chargé d'affaires is the senior American diplomat in Venezuela because the United States has no ambassador to the country.
According to a US Embassy website, she has been assigned to Caracas since July 2011 as deputy chief of mission, and was temporarily serving as the Chargé d'affaires.
Venezuela identified the other two diplomats as Elizabeth Hunderland and David Mutt. The US Embassy had no immediate comment or confirmation regarding the expulsions.
"I'm not going to allow any action that stirs violence in this country," Maduro added.
Responding to the expulsion of the three US diplomats, opposition leader Henrique Capriles said no one believed the "joke alerts" being issued by Maduro's team.
"It's just smoke to cover up that they can't manage the country!" Capriles, who contested the election result after losing to Maduro in April, said on Twitter.
Six months ago, Maduro expelled two US military attaches hours before announcing Chavez's death from cancer, later saying that one of them was trying to stir up a coup against Chavez.
Maduro has also suggested Chavez's illness could have been caused by his enemies, including the United States.
The United States and others called that allegation absurd.
Since then, the president has loudly denounced a US-led "economic war" that has led to product shortages and blackouts.
His critics say those problems are the result of an inefficient currency control system that encourages corruption, as well as under-investment in the country's creaking power grid.
In the most recent diplomatic spat, Venezuela accused Washington of "aggression" this month after Maduro's plane was briefly blocked from flying over Puerto Rico en route to China.
The US government said it nevertheless approved the flight plan, which had not been properly submitted by Caracas.
US President Barack Obama had said after Chavez's death that he hoped for a "constructive relationship" after years of bilateral tensions.
But the United States and others have found it difficult to engage with the government, or opposition, without opening themselves up to accusations of meddling in the OPEC nation.
Around the Web