(Trinidad Guardian) Some 87 Muslims were turned away from entering Venezuela and getting a visa to travel to Saudi Arabia. They had to stay overnight at the Simón Bolívar International Airport and take a return flight to Piarco yesterday. The group members were seeking a visa to enter Saudi Arabia so they could travel to the land of Makkah and Madina to perform a pillar of Islam, called Hajj. T&T does not have a Saudi Arabian Embassy hence the visit to Venezuela.
Yesterday at the Piarco International Airport approximately 50 members of the group and their families gathered at the arrival terminal. President of the Islamic Missionaires Guild of the Caribbean and South America, Imtiaz Mohammed, said they members of the group stood to lose between $20,000 and $35,000 individually. The package included the visa, accommodation, meals and airfare.
Mohammed said that was because the Hajj was now seen as an opportunity to make money. He said some groups were charging up to TT$49,000 for the trip. Mohammed said there were certain individuals who wrote to the Embassy authorities in Venezuela and claimed their operator for the tour was not legitimate. "Those letters contained many malicious and damaging statements towards the leaders of the group as the one today.
"Their wish came through and they have achieved their desire to make big profit in front of letting their Muslim brothers and sisters go on this holy and sacred pilgrimage," he added. Mansoor Mohammed Ali, 72, one of the pilgrims, cried when he was greeted by his fellow "brothers", "sisters" and relatives. "When I reached Caracas I was denied a visa to go and it hurts in my heart for my brothers who didn't get a chance," he said.
Hamzah Mohammed, whose father arranged the Hajj, said he had to stay in the airport o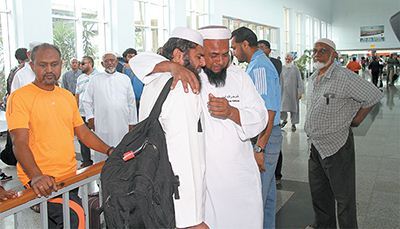 vernight. He said his father remained in Venezuela to take care of the problem. "We had to go in the toilet with somebody as if we were criminals. I hope all this could stop. "I know my heart is aching and I was looking forward to go. I took vacation from work. We have to put a stop to this," he said.
Imam Rasheed Karim who was there to greet his two sons said the whole problem was based on the amount of money spent. "It is basically business and transaction. It is painful to see my children in this atmosphere. "Their faces were lit like a Christmas tree and today the light has dimmed. I don't know as a father how I will deal with that," he said. Karim said he was going to take the issue further and make sure that it did not happen again.
"What they are saying is that the poor people in this country who does not have money that they should not make Hajj," he said. An official at the Venezuela Embassy said he did not have any information on why the group was turned back. "We wouldn't know anything about that or why they didn't get there and I don't know under what conditions they went," he said.
Around the Web