(Trinidad Express) Hecklers crying "sell-out" did not seem to faze United National Congress (UNC) candidate for St Joseph, Ian Alleyne, who after weeks of speculation yesterday filed nomination papers for the November 4 by-election.
Harangued by supporters of the Independent Liberal Party (ILP) outside the Aranjuez office of the Elections and Boundaries Commission (EBC) after filing his papers, Alleyne said, "I do not want to respond now with respect to what they are saying about 'sell-out'. I am not going to get into a shouting match."
Yesterday's nomination day may be one of the more colourful in recent election history, with loud clashes between supporters of the UNC and the ILP, for which Alleyne's former friend and attorney, Om Lalla, will contest the St Joseph seat. The two were reported to have parted ways within recent weeks due to political differences.
Lalla was also a partner and co-host on Alleyne's Crime Watch television show, which Alleyne announced yesterday will be on hold for the next 14 days, as he campaigns across the country.
As he exited the EBC's office, Alleyne was the subject of a chant of "sell-out" by ILP supporters.
Alleyne had last week strongly and categorically denied claims by ILP interim leader, Jack Warner, that he had met Prime Minister Kamla Persad-Bissessar and Attorney General Anand Ramlogan at the Hyatt Regency on the Port of Spain Waterfront Complex, where they were trying to woo him to run for St Joseph.
Warner had also claimed that he was to be given the position of national security minister.
Alleyne later appeared on a UNC platform, where he denied being courted or  being offered the Ministry of National Security, as had been suggested by Warner.
Alleyne had said then that he was "not for sale" and "no politician could buy" him.
"Thou shalt not lie, Jack" he had thundered at the time.
Speaking briefly to the media as he walked out of the EBC's office with Ramlogan and Water Resources Minister, Ganga Singh, Alleyne said he was not going to engage his detractors at that point but that he would "reveal all" at a UNC public meeting in Fyzabad last night.
"Come to Fyzabad tonight and you will hear it all," Alleyne said, at one point pausing as he was drowned out by the hecklers lining the Aranjuez Main Road and crowding onto the small front area of the EBC office, which shares a building with a number of companies.
Asked about Lalla's alliance with the ILP, Alleyne said: "Mr Lalla has indicated his support for a particular party. That is his democratic right."
He later said that Warner was "an alien to the truth" and he was puzzled as to how Lalla allowed himself to "take that chain up".
Alleyne announced yesterday he has asked his employer, Guardian Media Ltd, for 14 days off air to focus on his campaign.
He said he has "not taken a holiday in years".
"I'll be back," Alleyne said.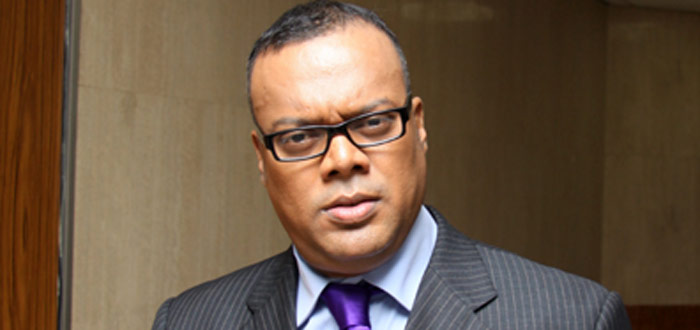 "I am coming to settle a score, I am coming to deal with the criminals."
Asked why he decided to enter  politics, Alleyne responded:"I'm taking the fight of crime to a different level."
Alleyne also said he was not in politics for any other reason, as the television network "pays millions" and he was on top of his game.
"Everybody is saying 'buy-out' I am not hungry, I have no need," Alleyne said.
He repeatedly invited all to watch him on the platform at Fyzabad, which was scheduled for last night.
Around the Web