(Barbados Nation) The Barbados Labour Party (BLP) is offended, as all Barbadians are, at the vicious and nasty personal attacks by Minister of Finance Chris Sinckler on anyone who calls him on his competence, says BLP parliamentarian Dr Maria Agard.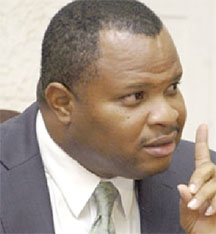 And she is calling on Sinckler to apologize to the women of Barbados for making the statement.
In response to Mottley's filing of a no-confidence motion in him, Sinckler said "we're now only left to see her strip naked and run down Broad Street in her attempt to get attention".
Agard said this underscores Sinckler's unsuitability to be Minister of Finance or any Minister in a serious Government.
She was speaking at a media briefing at the Opposition's office in Parliament yesterday afternoon.
Others speaking included BLP parliamentarians Cynthia Forde and Santia Bradshaw.
Forde said Sinckler's statement was "out of place and disrespectful", and bemoaned the personal attacks he makes when confronted on political matters.
Bradshaw said Sinckler's comment sought to detract from the real issues of the day and this has been a strategy of the Government.
Around the Web