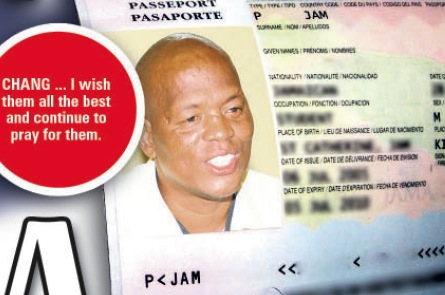 (Jamaica Observer) The United States Embassy on Friday revoked the 10-year visa of a Kingston pastor, five days after the Sunday Observer published an interview in which he said he was having a hard time becoming a justice of the peace due to his manslaughter conviction over 23 years ago.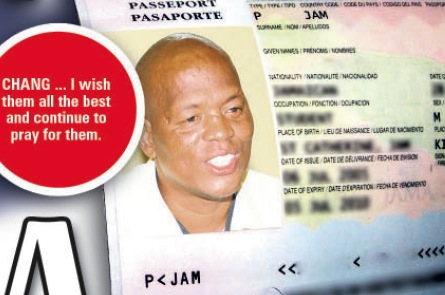 David Chang, 46, said he had travelled nine times to the United States to preach after he had served his sentence.
In his quest to become a JP, Chang argued that if the US Embassy could pardon a Jamaican and grant him a visa, then the Government of Jamaica could take a leaf from that country's book.
However, Chang, who has been jailed over 100 times, has 36 convictions, and has served eight years in prison for manslaughter and released 15 years ago, was called into the American Embassy on Friday, where he was told that he should not have received a visa in the first place as a result of his record.
"They called me in and they didn't go into a whole lot of details. But I know that it was about the Observer interview," Chang told the Sunday Observer on Friday.
"They started asking about my criminal record. It's the interview that they saw. They asked if I have any papers from the court, and I said no, because I finished my sentence. And I told them that when I applied for my visa they asked if I had any arrest and I ticked off yes, and went further and explained in writing some of the charges. And it was not in question when I went up there and they gave me a visa," Chang stated.
Chang said that he first received a one-year visa, which he used to travel, until it expired. He then reapplied and received a 10-year visa, which he has been using since he received it in 2009.
"They say a person like me shouldn't have a visa because of the record and the law requires that," said Chang, a pastor of the 50-member Majesty Transformation Fellowship Church in Majesty Gardens.
Chang said that he was, on Friday, told by the interviewing officer that he could reapply in a year's time, when the embassy would further explain the reason for the cancellation.
However, he is not hopeful.
"The only way I feel I could get it is if I get my record expunged; if I clear the criminal record and have a clean police record, because I spoke to my lawyer and she told me the same thing," he said.
Chang, who said he learnt to read and write in prison, completed his first degree last year in Theology and is looking forward to starting his master's degree next year, after which he intends to pursue a doctorate.
But, despite having his visa revoked, the pastor is not bitter.
"I don't feel any way, you know," he said with a laugh. "Guess what, I am a Jamaican. I am in Jamaica and nobody can take me out of Jamaica. And, in fact, they not even supposed to give me a visa. A visa is a privilege. So I don't let it get to me. I am in Jamaica and I have a visa to heaven, so if that visa to heaven is taken away from me, that is when I would feel a way. But I figure when I applied for my visa they know, because I confessed it on the paper."
He said further: "I figure they didn't do anything wrong, so I don't even want to say much about them. Because most of them, I guess, are not Christians, and probably if I was in their shoes I would have done the same. If they were believers and persons who believe in transformation, they would not have done a thing like this. So I believe if I was an unsaved person in their position, I would have done the same. I wish them all the best and I will continue to pray for them," Chang said. However, Chang feels that this move could be sending the wrong message to men who have transformed their lives and want to give back to the nation.
"Most of the criminals believe that there is no hope," he said. "And I believe that if the Government or anyone saw a man like me with so much potential and so much progress, they should use me, as I have said before, as an example. And I believe that other gunmen and other people out there can say yes', once there is life there is hope'."
Chang said that the cancellation of the visa, on Friday, was a turn off for him and makes him feel that there is something wrong with the laws of this world as, despite his efforts to do good, he is still being hindered.
"I am ready to give back to the country, you know. I am sincerely ready to give back to this nation," Chang said. "It really turned me off today (Friday). It really turned me off."
While declaring that he would never lie in order to acquire a visa, nor to go through life, Chang noted that there are persons who will choose to continue down the road of 'buying' visas to the US, instead of going through the legal system because the system is forcing persons with good intent to do so.
"I have travelled nine times in doing ministry work," he said. "And I always come back. I never feel like I could run off and stay there… never. But I am still pressing on in life and I am not going to let this hold me back. I am going for my goal, which is to help and give back to this nation. And even if they turn me down when I am expunged I am not going to stop. I will continue to do work," Chang said.
Chang, who was 27 when he converted to Christianity in prison, said that, while he is busy in full-time ministry, he is active in his community as well as adjoining communities helping young people. He said that over the last 15 years he has helped more than 100 persons to fulfil their dreams to become nurses and teachers, while others are still in college, courtesy of sponsorship sought through him. Chang is presently forming a Christian group named 'Men on a Mission', whose members will go into the prisons and communities to speak with criminals about changing their lives for the upliftment of the country. He has also started writing his book From Prisoner to a Pastor, which he hopes will be a testimony to others.
Around the Web