(Trinidad Express) A Kundalini yoga instructor sat next to a Hollywood movie star and practised holding her breath for long spells while the cabin of American Airlines flight 2282, which made an emergency landing in Turks and Caicos last Monday, filled up with smoke.
Trinidadian Lou-Ann Maharaj, 48, boarded the Boeing 747 at Piarco International Airport bound for Miami on October 21 when, 90 minutes before touchdown at Miami, smoke filled the cabin, forcing an emergency landing at Providenciales International Airport, Turks and Caicos.
Maharaj was bound for Atlanta in the United States; she returned to Trinidad over the weekend and shared her experience with the Express yesterday.
She was one of 175 people aboard the flight.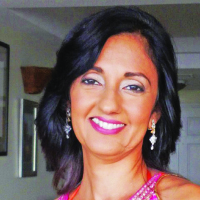 Nursing an irritated throat, which she believes is the residual effect of smoke inhalation, Westmoorings-based Maharaj said she was not afraid or panicked.
She said the flight, which was scheduled to depart Piarco at 7.25 a.m., was delayed for 30-40 minutes.
"I was in business class, breakfast had already been served and I just started to smell smoke. I thought to myself I couldn't possibly be smelling smoke. Where could smoke be coming from?
"Then I looked around and I saw a lot of smoke in the cabin behind me (in economy) and it was coming towards business class.
"At this point the flight attendants were unaware that anything was happening.
"They suddenly realised that there was smoke in the cabin and honest to goodness, I think the whole thing was handled very poorly. The staff gave no clear instructions on what to do."
Maharaj said a Trinidadian man from economy class rushed towards the flight attendants in business class and started issuing instructions such as, "Get the extinguisher!"
He also gave instructions to passengers.
"There were ten minutes of panic," she said, during which the man ran up and down the aisle.
Maharaj called upon her yoga training.
"Thanks to my yoga practice I am totally centred and I allow and accept things that happen. By this time I am just chanting, calling on God's name because in our practice we believe that upon our last breath it should be God's name on our lips."
Yoga, however, requires deep breathing which was foolhardy in a smoke-filled cabin. Maharaj changed her technique and took short breaths and held them for as long as she had trained herself to do.
The pilot, she said, never spoke to passengers.
"The Trinidadian man was telling passengers to keep our heads down but I didn't do it because that didn't sound like the protocol for smoke inhalation," she said.
That's when Maharaj realised she was in famous company.
"The gentleman next to me, who had not spoken at all, now said, 'Young lady, just continue what you're doing (chanting) but I would suggest you pull your shirt over your nose.' He did the same."
The man turned out to be Bob Wall, actor and martial artist, who starred alongside iconic fighter/actor Bruce Lee in Enter the Dragon (1973). He is also a karate champion trained by Chuck Norris.
By this time, Maharaj said, the two flight attendants and the Trinidadian man were wearing oxygen masks but none was released to others passengers. They were instructed, however, to pull on their life vests.
The plane made an emergency landing at Providenciales International Airport at 10.20 am…the landing, she said, was smooth given the circumstances.
Passengers waited another 30 minutes inside the plane after landing while emergency firefighters doused it with water.
In that half-hour, Maharaj said, the senior flight attendant started a variety show to keep passengers calm. An elderly Trinidadian man, Maharaj said, sang "Waltzing Matilda", while other passengers sang along.
Six hours or so later, another American Airlines flight transported them to Miami International Airport.
American Airlines could not be reached yesterday.
Following the incident, the airline's spokeswoman, Miami-based Laura Masvidal, told the Associated Press the jet made the emergency landing due to a "mechanical issue" related to one of the engines. She added that a maintenance team was to evaluate the aircraft.
Around the Web