(Trinidad Guardian) President Anthony Carmona says society has been producing "yes" men and women. He said, too, that "spinelessness has become institutionalised." The President made the comment last week while being installed as Chancellor of the  University of T&T. The event took place at the university's campus at O'Meara, Arima. In his inaugural address, Carmona also urged citizens to become patriots.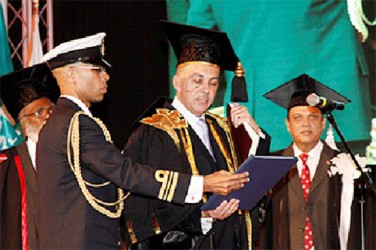 He said, "It is men and women of status, rank and letters who have failed this country. Far too long we have been producing yes men and women in our society." Carmona said logic and reason are in short supply. He said UTT was intended as a vehicle to produce innovators with a focus to impact on national development. As chancellor he recommended an urgent need to attract the private sector. He said also, students needed to know about employment.
"Critical thinking, reading, writing, public speaking skills should play an integral part of any curricula. I put forward this challenge to make critical thinking an A-level subject. Content has to be looked at. It is a fundamental tool of innova-tion. Don't tell me what I want to hear, tell me what needs to be said, the President said. Carmona said he was moved by Ravindra Ramrattan's decision to apply his education. Ramrattan, 31, was killed at a mall in Nairobi, Kenya, when it was attacked by terrorists last month.
"I did not know him. He was a model for farmers in Kenya. His education was with a purpose," he said. Carmona said many have graduated but are using this knowledge to build other countries and not home. "The reasons may be varied and it may be personal safety and security." He said he will be embarking on hosting a biannual think tank with medal winners for input into a solution. "We have to engage the best and the brighter. Our resources are not oil nor gas but people," he said.
"Who failed this country of ours? Not the men with the cutlass, not the men with the whacker, not the men who cut grass. It is the men of status, rank and letters. We must create a paradigm, he said. "Your country is investing in you.
Around the Web