(Barbados Nation) Sir Hilary Beckles lives his life according to the Buddhist philosophy which he embraces – a philosophy that says "you are no more than a packet of energy with an amount of spirit".
"I have adhered most of my adult life to the principles of Buddhism and they have given me tremendous strength," said the man who has been piloting the University of the West Indies (UWI) Cave Hill Campus through landmark stages of its development.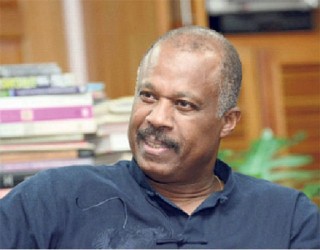 Asked to define himself during a candid SUNDAY SUN interview last week, he responded: "I see myself as an ordinary citizen who is looking for peace of mind. I am a teacher, I am a writer . . . a Caribbean person who is seeking to take the Caribbean away from its traditional morass and put it on a path that would be good for everyone."
Transformation of the Cave Hill Campus, keeping it relevant to Barbados' needs while meeting its obligations to "stay in the pack" of UWI campuses remains his resolve. Building on the foundation of his predecessors he has managed to erase the "backwater" concept of this particular campus through rapid transformation, getting the private sector, Government, international donors involved, and winning the support of the Cave Hill staff.
Expansion and growth of the campus over the last ten years have been driven by the needs of a services economy with emphasis placed on the Faculty of Social  Sciences. But that emphasis is about to shift, as Sir Hilary disclosed his aim to move Cave Hill into the new frontier of science and technology in keeping with the trends in this direction.
"We are turning the campus around, away from the services economy somewhat and we are now looking at science, technology and the digital age," Sir Hilary explained, disclosing the intended direction was towards a science and technology campus in conjunction with the Samuel Jackman Prescod Polytechnic.
As for student composition, he has also placed an international agenda within his scope.
Unlike the Mona and St Augustine campuses, where over 90 per cent of nationals make up the student population, the Cave Hill Campus, according to the principal, is "the most Caribbean campus" with 30 per cent of students from the region, while Barbadians make up 69 per cent.
The target going forward is for a student composition that is 60 per cent Barbadian, 30 per cent Caribbean and ten per cent international. This model, Sir Hilary believes, is the best to stabilize finances, generate even more foreign exchange and transform Cave Hill into one of the largest centres of income generation and foreign exchange earning in Barbados.
Today this Barbadian's stature as a distinguished academic and figurehead looms large, a far cry from two or three decades ago, a time which Sir Hilary reflects was "a very difficult time for me and my family", a time when he said he felt "demonized".
"There were times when I wanted to pack up my bags and leave. I was living for many years with constant death threats; it was a horrible time." He was then in his late 20s, agitating for a change in the policies of the Barbados Mutual insurance company, waging a very vocal campaign and utilizing every platform to get his message across.
The young university graduate had just returned home from England and purchased insurance policies from a company that he was disturbed was "serving the elites of this country very well but had turned its back on the working class and middle class people, most of whom were the majority policyholders".
"It had exploited them. It took their money, it took their investments and they were used as a pool of resources to assist the elites of this country," Sir Hilary recounted to the SUNDAY SUN.
"My view then was that the time had come to turn that around. I felt two important philosophies – that people should not detach themselves from their money. I wanted to reconnect the majority of Barbadian people to their capital. I also wanted to show them at the time that economic passivity was what was holding them back as a community; that they cannot be passive in the economy."
In that struggle he risked his chances for employment in Barbados and today thanks the University of the West Indies for rescuing him.
"Had it not been for the University of the West Indies, I think I would have been walking the streets of Bridgetown begging for bread. I suspect if it was the University of Barbados I would have been fired because my principal was under a lot of pressure to rein me in. The university administration was under pressure to get rid of me."
That Sagicor is today "the flagship for Barbados and Caribbean culture and civilization" seeing a "creative black Barbadian woman" as the CEO of Sagicor Life Barbados, and "one of the brightest people this country has ever seen" as group president and CEO, fills Sir Hilary with "tremendous pleasure and pride". He is satisfied his campaign resulted in meaningful changes.
"It is one of the most satisfying experiences of my life because I sit on the board of Sagicor today and what Sagicor has become today is what I wanted it to become then."
He is now 58 and the fiery rhetoric has given way to a more moderate tone, though he made it clear: "Your strategy changes, your methodology, but not your intentions."
But he also pointed out: "The work that I do now carries a greater sense of political and diplomatic responsibility."
"Prof", as he is affectionately called by his students, continues to forge ahead in his bid to create not only an environment that is conducive to study, but a campus that reflects sensitivity to the a wide range of students' needs.
Managing the role of principal and a personal response to the needs of a large family is a tough job.
On this rare occasion when he lifted the curtain on his private life, the tough façade melted away and exposed a vulnerability and a side of the academic rarely seen.
He told of the "emotional pain" of watching his family age and the "hurt" of seeing his sisters battle serious illness.
"Cancers are taking my family. Two of my sisters have had cancer surgery and that has really hurt me because I love my five sisters dearly."
A lot of his emotional energy is being expended on helping his family deal with all the things that they are dealing with.
He has taken on the responsibility of taking care of his 95-year-old father and his 85-year-old mother, every Sunday transporting them to and from their respective churches. It is an obligation of which Sir Hilary says, "I feel honoured that I can still do that for them."
What does he believe will be his legacy? He dismisses the very idea.
"I have told my family if one day I drop dead, take the thing, burn it, throw it in the sea and be done with it. I have no interest and no time for what happens when I am gone, because it is true – all is vanity."
Around the Web