(Trinidad Express) Judas. Traitor. Betrayer.
These were the words flying about yesterday after Independent Liberal Party (ILP) councillor Faaiq Mohammed broke ranks with his party and voted in favour of the United National Congress (UNC).
The controversy resulted in the failure to elect a new Chaguanas mayor and deputy mayor yesterday.
Mohammed's change of allegiance could see the UNC taking control of the corporation if and when there is a resolution to the impasse that took place yesterday.
The conference room of the Chaguanas Borough Corporation was transformed into live theatre when Mohammed rejected his own party's candidate for presiding officer — Falisha Isahak — and voted for the UNC's choice — Vandana Mohit.
When the time came for the vote to be taken for a presiding officer and Isahak's name was called, Mohammed sat upright, shook his head in the negative and kept his hand down and head slightly lowered.
He looked uncomfortable as his three ILP colleagues — Isahak, alderman Indra Maharaj and councillor Simeon Mahabir raised their hands in support.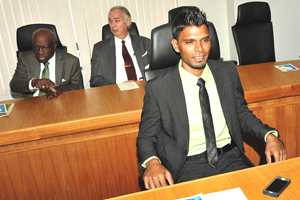 When Mohit's name was called, Mohammed raised his hand in support, giving her the push needed to be elected presiding officer.
ILP leader Jack Warner put his hand to his chin with a look of disappointment.
Government Ministers Vasant Bharath, Stephen Cadiz and Ramona Ramdial sat quietly with blank stares.
There was stir from onlookers, mostly ILP supporters, who came to witness the event.
One woman whispered, "Thy's a Judas!"
Mohit took her place at the head table as presiding officer and then proceeded to call for votes to be cast for the election of a Chaguanas mayor.
UNC alderman Gopaul Boodhan rose to his feet and moved that the vote be taken by way of secret ballot.
This was seconded by a UNC councillor.
However, People's National Movement (PNM) councillor Ronald Heera immediately stood and said that the vote must be taken by show of hands which was seconded by ILP alderman Indra Maharaj. He said the motion must be carried.
The ILP and PNM collaborated to fight the UNC's move to vote by secret ballot.
Mohit said the councillors were not duly constituted and therefore the motion could not be carried.
Heera became visibly upset and shot back, "Madam chairman, apparently you didn't hear what the CEO said at the swearing-in (of aldermen), this was the first council meeting."
Mohit called for the intervention of the corporation's attorney, Brian Baig.
He said Standing Order 4 of the Chaguanas Borough Corporation Act states that the election should take place with the use of a ballot paper.
Heera was unconvinced.
"We could decide. We around the table, we could decide, we just vote by vote of hands and you reading something now for us and you are the lawyer," he said dramatically, thumping the desk with his hand as he spoke.
Baig said under the law there are standing orders which must be followed.
ILP alderman Maharaj got up and said, "Madam chairman, I hereby move for the suspension of the standing orders."
"I second that!" said Heera, as members in the audience loudly applauded.
After about a minute, Baig stood and said, "This standing orders were made by the Chaguanas Borough Corporation with the approval of the President under section 66 of the Municipal Corporations Act of 1990 therefore this has presidential assurance. If this is to be suspended it must be done by the Head of State, who is President (Anthony) Carmona."
ILP chairman Robin Montano whispered advice to ILP councillor Mahabir, who then said, "I would like to move that the council be suspended under approval from the President."
There was again loud applause.
"Who seconding that?" asked Mohit.
"Ronald Heera!" said Heera, as people burst out in laughter.
Mohit put the request to a vote and it was passed as all the four PNM members and the three ILP members (excluding Mohammed) voted in support.
The council was suspended.
Montano, speaking to the media after, said no meeting can be convened until Carmona steps in.
"No meeting will take place unless and until the presidential approval is obtained to suspend the standing orders on this point, no meeting. Because we will move a meeting every time to suspend the meeting before any business can be done. The meeting will be conducted by show of hands in public, no secret ballot," he said.
"There is a traitor in our midst….the election of mayor has to be by show of hands. We want the whole world to see who is our traitor," said Montano.
"You must not hide behind who you voting for, because at the end of the day you have to be exposed and the public has a right to know who the traitors are on board," added Warner.
Warner alleged that Mohammed was bribed with $2.5 million for his vote.
In an interview with the media after, ILP councillor Mahabir said he was offered bribes.
"I was approached by different parties to cross the floor and give them my vote for monetary, house, car, values. I took a stand and told them that I refuse it because the people in Munroe Road, Caroni Savannah voted for me as ILP and they put their faith and trust in me as ILP and I have to represent them under that and no monetary value will cause me to change my vote," he said.
Asked how much he was offered, he responded, "I was offered in the millions, I was offered house, car. I started with $1.5 million, offered private sector job all those things, Minister work when Government goes in power…I was offered all sort of things but I refused because of the stand I took. My political career now start, I cannot go down on that route. I am sorry to say that Faaiq started on the wrong foot and his political career is at an end because when people put trust in you, you have to keep it with them and don't lose it and he just give it up," he said.
Mahabir, 23, said he is a businessman, managing director of Magic Star company, which had a CEPEP contract which was taken away by the Government.
There was a deadlock following the local government elections as the UNC, ILP and PNM each had four members in the corporation.
Around the Web