(Trinidad Express) Explosive revelations in a United States district court yesterday identified Trinidad and Tobago as a transhipment point in a plan to smuggle guns, drugs, and even terrorists into the US.
Details of the well-orchestrated plan came to light when a New York court unsealed a damning indictment against Dino Bouterse, son of Suriname president Desi Bouterse, and his accomplice, Edmund Muntslag, who is in custody in Trinidad.
Bouterse and Muntslag are already facing charges of plotting to import ten kilograms of cocaine into the US and of possession of an anti-tank weapon.
The New York court yesterday slapped Bouterse with an additional charge of attempting to supply weapons to militant Islamist group Hezbollah and providing terrorists with a base in Suriname to attack the US.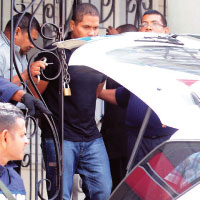 Officers from the Organised Crime, Narcotics and Firearms Bureau arrested Muntslag at Trincity Mall in August.
According to the 24-page indictment, the alleged narcotics and weapons traffickers hatched a plot of international scope which identified Trinidad and Tobago as a bridge between the Middle East, South America and the US.
Transcripts of recorded conversations quote undercover US agents asking Bouterse how Hezbollah agents could infiltrate the US.
"They're going to come from Lebanon but how they get to you (in Suriname) is what we have to figure out," the agent asked, according to the indictment.
"They can come through Trinidad. That's not a problem," Bouterse replied.
Bouterse also told the undercover agents that mechanisms were in place for Muntslag to meet a Hezbollah associate in Trinidad, collect US$2 million in cash, and then accompany the terrorist on a flight to Suriname where they would view weapons.
But as the Express exclusively reported last month, local law enforcement foiled that meeting in August, arresting Muntslag at Trincity Mall, where he planned to meet the Hezbollah associate.
The indictment also outlines the planned route for a massive cocaine shipment that would use Trinidad as a pipeline to the US.
Bouterse said of an undercover informant who was posing as a drug buyer, "If he wants a thousand a key (kilo) no problem, but every week we are only gonna do 20 (kilograms). It will be one bag (of cocaine) a week, that's it."
The shipment route, as explained by the undercover informant, was "from here (Suriname)-Trinidad, Trinidad-Fort Lauderdale, Fort Lauderdale-New York…"
The first attempt at trafficking the cocaine, referred to as a "test load" in the indictment, was confiscated by authorities at Piarco International Airport on July 27, 2013.
Law enforcement seized a suitcase coming off a flight from Suriname. The luggage, allegedly sent by Muntslag, contained ten kilograms of cocaine.
Around the Web