(Trinidad Express) POLICE confirmed this afternoon that missing six-year-old Keyana Cumberbatch has been found. Her decomposing body was discovered stuffed in a barrel, near Building 5, Maloney Gardens. Police are on the scene.
The second-year pupil of St Barbara's Shouter Baptist Primary School went missing around 5.20 p.m. while on her way to her grandmother's apartment, located just metres away from where she lived at Building Four in Maloney.
She was in the company of the male relative prior to her disappearance.
Keyana's mother, Simone Williams, 27, told the Express on Tuesday, she was only made aware of her daughter's disappearance after she made a call to her mother, asking her about the girl.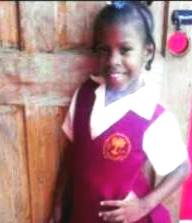 Her mother, she said, informed her Keyana never showed up at her apartment as she was expec­ted to.
Williams said she then made calls to other family members seeking to locate the girl before making a police report.
Crime scene detectives and officers from the Canine Unit visited the area where the girl lived and carried out a search, but she was not found, until today.
The relative was taken into custody on Tuesday afternoon and was being interrogated by officers at the Arouca Police Station last night.
Investigators said the man informed them he knew nothing of the girl's disappearance.
The man told officers he walked Keyana to the building where her grandmother's apartment was located and saw her enter the building.
Contacted by phone yesterday morning, Williams said she was still keeping hope alive her eldest of three daughters would be found.
The Express paid a visit to her home during the afternoon period but Williams was not there.
When again contacted by phone, Williams said she was at the Arouca Police Station where she was being updated on the findings of the investigation.
Around the Web