(Trinidad Express) A COAST GUARD able seaman/mechanic was shot dead on Friday night when three gunmen stormed a lime outside his home in Bourg Mulatresse, Santa Cruz, and opened fire, kil­ling the sailor and injuring one of his friends.
In a separate incident ear­ly yesterday morning anoth­er man was stabbed to death during a fight outside a St James bar.
The killings brought the year's murder toll to 365 up to last night.
The first victim, able sea­man Kellon John, 34, was a mecha­nic with the Coast Guard.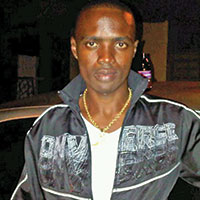 He had been a part of the or­­ga­­nisation for the last ten years.
Relatives said at 11.10 p.m. on Friday, John and several of his friends were liming in a yard bordered by several houses when three men approached the group.
They opened fire, hitting John and another man, Anthony Alexander.
The three gunmen then fled the scene without taking anything.
John, who was shot several times in the back, and Alexander were taken to the Eric Williams Medical Sciences Complex in Mt Hope where John was pronounced dead on arrival.
Alexander remains at hospital.
John's relatives yesterday said they were still bewildered about why the group of men were attacked.
"If you ask anybody, they would have told you that he is a very friendly and outgoing person. He knew all the young girls out here, and they would tell you that they thought of him as their big brother. In fact, even all the children in the neighbourhood knew him," said John's sister.
John had two children, ages nine and seven.
Homicide Bureau officers are continuing investigations.
Early yesterday morning, the other murder occurred.
Police said around 1.30 a.m. the victim, Kareem Stra­ker, 24, was liming at the Uni­ver­sal Bar, off the Western Main Road, St James, when he got into a fight with a man.
During the altercation, the man stabbed Straker several times, following which he fled the scene.
Straker was said to have been a resi­dent of Barataria.
He was taken to the Port of Spain Gen­eral Hospital where he was pro­nounced dead on arrival.
Police said the suspect may soon be arrested as he is well known to them.
St James Police and the Homicide Bureau are continuing investigations.
Around the Web