Three days after his vehicle was found by police ranks in a forested location some distance away from the Splashmin's Fun Park, there was still no sign of missing Guyana Energy Agency (GEA) worker Levoy Taljit.
Taljit, 25, of Anira Street, Queenstown, was reported to have gone missing on the night of December 23.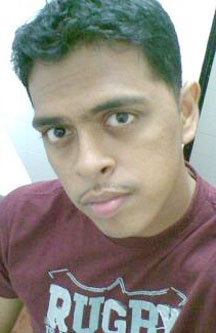 He was last seen driving his Toyota Raum, licensed number PNN 8315, which was found vandalised last Friday along the Linden-Soesdyke highway.
A source told Stabroek News that a search party, which comprised of some of his work colleagues and friends, yesterday conducted a search in the area where his car was found but uncovered no further trace of him.
Taljit was last seen wearing a burgundy-coloured t-shirt with faded blue jeans.
Taljit's relatives are still praying for his safe return and anyone knowing his whereabouts is asked to contact them on telephone numbers 226-0433, 226-7336, 666-4012 or the nearest police station.
Comments

A jet plane flies by the total solar eclipse in Guernsey, Wyoming U.S.

Superstar opener Chris Gayle … returns to the West Indies side for the first time in over two years.

The Church Street hotel and casino Hotelier Clifton Bacchus today filed a $2 billion lawsuit against the state-owned Guyana Chronicle newspaper following its publication of two recent articles which he has described as "highly defamatory." Guyana National Newspapers Limited, which is the publisher of the Guyana Chronicle, and the editor of the Guyana Chronicle were listed as the defendants in the suit, which was filed by a team of lawyers headed by former Attorney-General Anil Nandlall.

LONDON, (Reuters) – The gradual decline of West Indian cricket is hardly a new phenomenon but the latest capitulation of a once-dominant test match power has brought genuine expressions of sadness throughout the sport.

Eleven residents of the juvenile correctional centre at Onderneeming on the Essequibo Coast were apprehended between yesterday and this morning.