This is the season for giving and the Rose Hall Town Youth & Sport Club (RHTYSC) spent $3M reaching out to many less fortunate persons across East Berbice.
The club through its cricket teams: Farfan & Mendes Under-15, Bakewell
Under-17 Second Division, Pepsi Under-19 and Intermediate, Gizmos & Gadgets Under-21 and First Division as well as the Metro Female team made the less fortunate feel special by treating them to a meal, toys and food hampers.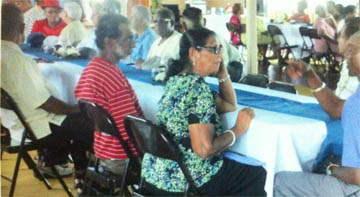 The activities started off with a Christmas party for 700 children on December 20 at the JC Chandsingh Secondary School. The party, held in collaboration with the Berbice Bridge Company and the Berbice Cricket Board (BCB), was supported by Minister of Human Services, Jennifer Webster.
Chief Executive Officer of the RHTYSC, Hilbert Foster said Radio's Needy Children's Fund supplied the toys, face-painting, Santa Claus as well as a puppeteer.
One hundred senior citizens were also treated to a luncheon at the Saint Francis Training facility on the 23rd. The old folks were happy to take home $12,000 worth of food hampers along with numerous presents.
The organization also presented 2,000 underprivileged children with toys and 200 poor families with food hampers.
It also provided Christmas items to various non-governmental organizations, including the New Amsterdam Mission Chapel Playschool, the St. Francis Xavier Roman Catholic Christmas feeding programme, the psychiatric hospital and the New Amsterdam Lions Club.
Food hampers were also presented to members of the Neighbourhood Policing Group as well 15 umpires who also received other gifts.
The club continued to help less fortunate children and donated $400,000 worth of clothing, footwear and blankets to them while 24 needy families received chicken to prepare for Christmas.
It also provided sponsorship for Christmas programmes on DTV Channel 8 and for Christmas cards worth
Foster said the club, in conjunction with Scotiabank also assisted cricket clubs in Berbice via the BCB, by donating $200,000 worth of toys for them to distribute.
Comments

(ICC) Antigua and Barbuda, Guyana and St Lucia were today announced by the International Cricket Council (ICC) as the venues for the ICC Women's World Twenty20 2018, which will be staged from 9-24 November.

The sugar union, GAWU today said that more sugar workers are to be made redundant.

(Trinidad Guardian) Education Minister Anthony Garcia says the University of Trinidad and Tobago (UTT) is of the view that the organisation is "overstaffed and to run the university efficiently it will mean they have to trim fat." But former Tertiary Education Minister Fazal Karim is warning that the decision to retrench 287 staff members, will "compromise the quality of teaching and learning and administration at the university," and may impact its accreditation with the Accreditation Council of Trinidad and Tobago (ACTT).

In preparation for Guyana's emerging oil and gas sector and the bustling business usually synonymous with the industry, the Pegasus Hotel is expected to undergo a huge expansion which includes office and residential rental spaces.

Police Commissioner Seelall Persaud is to resume his duties today after spending approximately six months on leave, Public Security Minister Khemraj Ramjattan yesterday confirmed to Stabroek News.