A father of Ruby, East Bank Essequibo (EBE) wants a thorough investigation into the death of his 15-year-old daughter, refuting claims that she hung herself on December 18.
Mohamed Nazamudeen, 41, told Stabroek News in an interview that he is convinced that the child, Natasha Nazamudeen, a fifth form student of Stewartville Secondary School, was murdered.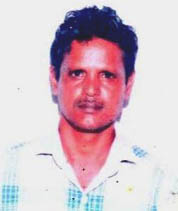 He said his suspicions were confirmed when the pathologist and a policeman who witnessed the post-mortem examination told him that the girl was strangled. He is, however, yet to receive a written copy of the findings. Nazamudeen also said that when relatives went to perform the funeral bath, they discovered that the body bore marks of violence.
His daughter, who was living with her mother and stepfather at Tuschen Housing Scheme, EBE, never showed signs of being suicidal. She had visited him a few days before and was even looking forward to spending the holidays with him, he said.
When the police arrived around 3 pm, the body of the girl was lying on the bed. Nazamudeen, who was prevented from entering the house at first until the police intervened, said the body did not appear as though it was hanging at all.
He said the mother said that the girl tied a piece of cloth around her neck and jumped from the top of the wardrobe. He, however, argued that if that were indeed the case, Natasha's neck would have been broken.
He also said that her tongue was not protruding and her eyes looked normal.
He had looked around the room but did not see any signs of a rope or cloth hanging anywhere and the driver of the hearse who got there before the police told him he did not see any either.
The neighbours later said they had heard the girl screaming loudly the night before.
They told him they "din take it for anything" because it was normal for her to "holler" when she was being beaten.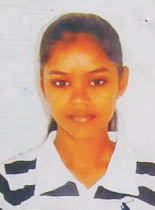 According to Nazamudeen, a relative had seen her with marks about her body before and she admitted that she was being beaten.
She told the relative she did not want him [father] to know because he would have been upset.
He regretted that his daughter never told him anything and said if he had known he would have brought her to live with him and her younger brother.
Frustrated that he was not finding answers about his daughter's death, he went to meet officers at the Leonora Police Station on Wednesday. He said a senior officer questioned the police who visited the scene and he claimed that he had taken the cloth that the girl reportedly used to hang herself with to the station. However, when the officer asked him to produce it, he could not and claimed that he had left it in a "press" but it was removed.
Comments

The improvised weapons (Prisons photo) Prison Staff this morning with the support of the members of the other services, reported for duty at the new holding area lusignan Prison.

Nicolas Maduro CARACAS/LIMA, (Reuters) – A group of 12 regional nations plus the United States rejected Venezuela's new government-allied legislative superbody, saying they would continue to regard the opposition-controlled congress as the country's only legitimate law maker.

Eighteen prisoners at the Lusignan penitentiary were being treated for injuries last night following a reported attempt to kill a fellow inmate during which warders fired shots.

A 12-year-old girl is now dead, while her brother narrowly escaped a similar fate yesterday after their aunt's La Bonne Intention (LBI), East Coast Demerara house, which they were under, collapsed on them.

Guyana has officially applied for membership in the European Union's Extractive Industries Transparency Initiative (EITI) which will help in tracking revenues from oil and other natural resources.