A man drowned on Monday evening after jumping into the Essequibo River, reportedly to salvage a 50-pound weight at the Parika Wharf,  East Bank Essequibo.
The body of Eric Forde, 24 of 63 Meten-Meer-Zorg, West Coast Demerara, was pulled out of the river around 10pm on New Year's Eve, five hours after the search began for him.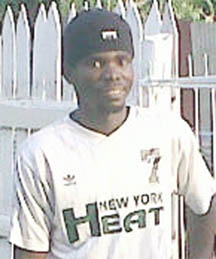 At his home yesterday, Forde's mother, Desiree Forde, said that she had rushed to the wharf when she got a call that they had found her son. The call came from his employer at Odyssey Jet Boat Services, who said that they had found her son and she should go down to the wharf. She said that what she saw that day changed her life and the life of Forde's other siblings. She said that Forde's boss approached her and told her to sit. "I sit down and he hug me and tell me that my son dead," she recalled blankly.
The woman added that she didn't believe that her son had drowned and that it had to be something serious. "I told Eric's bossman that the puzzle ain't fix. The pieces of their story ain't matching and I ain't satisfied with it," she said, adding that she was informed by a policeman at the Parika Station that the accident had the appearance of foul play.
Eric Forde's sister, Stacey received a call around 5pm on Monday from an officer at the Parika Station who gave her the shocking news that her brother was missing. "The officer asked me if this is Eric Forde's residence and I said yes and then he tell me that my brother plunge into the river at the wharf for some weights and his co-workers couldn't find he and they still searching for him," she said. At that point, she called her mother and brothers and they went down to the wharf but were told by his co-workers that they couldn't do anything at the moment to help him since the water was high and rough. "They said that they got to wait till the water go down," she said, adding that an hour after they left the place they received another call but this time from Eric's employer informing them that they had found Eric.
The woman said that Eric's employer, Feroze Barakat, promised that his company would help the family to bury Forde, since it had also suffered a great loss. Desiree said that her son was a quiet man who was always willing to lend a helping hand.
When contacted, Troy Khan, the manager of Odyssey Jet Boat Services, said the company was grieved by the tragic loss of its employee. Khan related that Eric worked on the truck that usually unloads cargo onto jet boats.
He recalled that on New Year's Eve, the truck tray jammed a scale and a 50-pound weight fell through a hole on the wharf and Eric volunteered to retrieve it. He said that when Eric's co-workers saw that he had plunged into the water they had called out to him to get out since the current was strong. "The men told me that they saw the water started to put him out into the deep and one of them jumped in to rescue him but when he plunged into the water he went under water and when he surfaced Eric had disappeared," the manager said. He said that the service quickly alerted the police and the man's family.
The body of Eric Forde was found 20 feet away from the wharf.
Comments

A sketch of the proposed Curepe Interchange (Trinidad Guardian) China Railway Construction Corporation (CRCC) has been awarded a $221.7 million contract by the National infrastructure Development Company (Nidco) to build the controversial Curepe Interchange, the state company's chairman Herbert George has confirmed.

Legal Advisor to the Police, retired Justice of Appeal, Claudette Singh yesterday testified that there was insufficient evidence in the allegation made by Andriff Gillard of an alleged plot to assassinate President David Granger.

Today at 2 pm the 30 councillors of the Georgetown City Council will once again cast a vote on the future of metered parking in the city and several of them have told Stabroek News that they want to be sure their vote accurately represents a mandate from residents.

Crime Chief Wendell Blanhum yesterday made a written request to be recalled before the Commission of Inquiry (CoI) investigating the allegation of a plot to kill the President of Guyana to defend himself against "appalling" statements made by Assistant Commissioner of Police David Ramnarine.

Two men were yesterday remanded to prison by a city magistrate after they were charged with the fatal stabbing of Rawle Rodrigues which occurred in January.