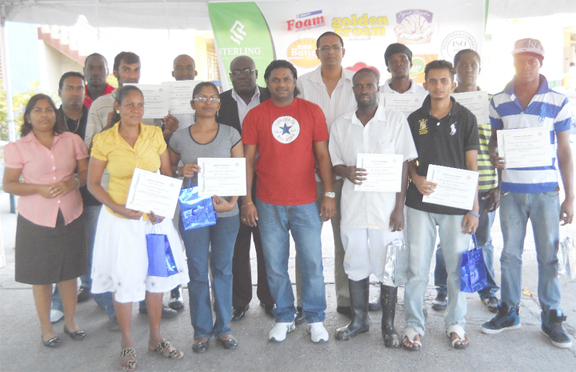 Ten staff members of Sterling Products Limited (SPL) on Friday last received certificates and tokens for successfully completing the Sterling Products Literacy Staff Development Programme.
According to a press release, the annual programme, conducted in collaboration with the Ministry of Education's Adult Education Department, seeks to enhance employees' personal development. It has been ongoing for the past four years. SPL's CEO Ramsay Ali said the company has always recognised the importance of such programmes.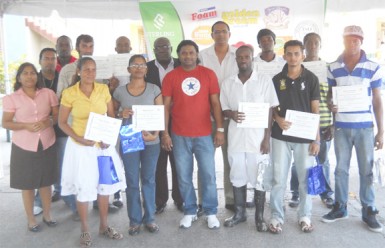 He congratulated his staff and urged them to continue to seek personal development. The release said that Assistant Chief Education Officer Marcel Hudson also underscored the importance of education. He noted that many people started out at the lower level of organizations but rose to senior management positions through hard work and perseverance.
In photo: the graduates display their certificates while SPL's CEO Ramsay Ali (sixth, right), Finance Comptroller Deodat Indar (seventh, right) and Assistant Chief Education Officer Marcel Hudson (eighth, right look on).
Comments

Michael Bhopaul, 16, doesn't know if he is this year's best performer at    the Caribbean Secondary Examination Certificate (CSEC) Examinations, but with preliminary results showing that he has obtained passes in 25 subjects, he will be hard to top.

Inmates at the Lusignan Prison turned over 33 improvised weapons yesterday morning to prison authorities, who say that they also apologised to the prison staff for the unrest at the facility on Friday night.

Well known Berbice attorney Chandra Sohan was arrested on Friday after he allegedly struck a pedestrian in a hit and run accident along the Williamsburg Public Road.

For a little more than an hour yesterday, the streets outside the Mackenzie Market rang with the voices of dozens of Linden residents who turned out to support a march against homosexuality.
The woman killed during the violent storm in Jawalla, Region Seven on Friday, has been identified as a mother of two, who was seven months pregnant.