Government and the opposition seem set on another collision over whether Home Minister Clement Rohee may be allowed to address the National Assembly, with Speaker Raphael Trotman awaiting legal advice on acting Chief Justice Ian Chang's ruling on the matter.
The main opposition APNU yesterday claimed legal victory in the wake of Chang's decision last Friday, saying Rohee cannot speak in his substantive role as minister, however, the final decision rests with Trotman.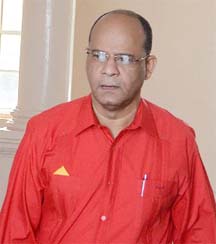 "Mr Rohee has no right or privilege to speak in the National Assembly as Minister of Home Affairs and Mr Rohee has a right or privilege to speak as a member of the National Assembly," APNU Shadow Attorney General Basil Williams maintained as he read from a press statement at a news conference yesterday.
APNU leader David Granger has tabled a motion to gag Rohee in the House and Trotman had referred it to Privileges Committee while in the interim restricting the minister's participation in the National Assembly. Trotman's decision was subsequently the subject ….