A recent check on the progress of the road being built to the Amaila Falls Hydropower Project (AFHP) site by President Donald Ramotar on Monday has highlighted a number of challenges that have to be overcome for its June deadline.
A Government Informa-tion Agency (GINA) press release said Ramotar, Minister of Public Works Robeson Benn and Technical Consultant Walter Willis flew to the area to inspect infrastructure from the Mabura trail to the Essequibo River.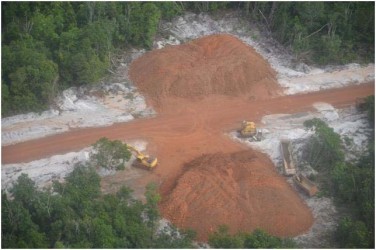 The team descended at Butukari to inspect the river crossing conditions before flying over the Kuribrong River into an area Benn described as one of concern which grants physical access to the falls. Fair weather and low water levels aided the team's ability to inspect critical areas.
The Amaila Falls project is one of several priority ventures being implemented under the Low Carbon Development Strategy.
While financing for the project has yet to be secured, it is likely to be concluded by the "second or third quarter of this year," the president said at a media briefing on Friday.
Ramotar also said that     the Inter-American Develop-ment Bank loan for the project hinges on a suite of protection measures that had been proposed after environmental impact studies had been conducted.
Last year the government dismissed the controversial Fip Motilall from the project and subcontracted the work to a number of companies.
Comments
The police say they are investigating a shooting incident which occurred about 11:20 am today at Leopold and Breda streets, Charlestown during which shop owner, Jacqueline Lagnah, 55, of 83 Leopold and Breda streets, sustained two suspected gunshot injuries to her lower back.

CARACAS/SAN CRISTOBAL, Venezuela,  (Reuters) – A wave of looting by hungry mobs across Venezuela has left streets of shuttered shops in provincial towns and pushed some store owners to arm themselves with guns and machetes, stirring fear that the turmoil could spread to the capital Caracas.

Taariq Stephens (New York Daily News photo) A Brooklyn man got a 41-year maximum prison sentence yesterday for killing a 16-year-old Guyanese girl who authorities said rejected his advances.

PRETORIA,  (Reuters) – Debutant Lungi Ngidi took six wickets as South Africa defeated India by 135 runs to claim victory in the second test in Pretoria today and also win the series with an unassailable 2-0 lead in the three-match contest.

(Trinidad Guardian) Environmental activist group Fishermen and Friends of the Sea (FFOS) has obtained an interim injunction barring the Government from continuing work on the first phase of the $400M Churchill Roosevelt Highway Extension to Manzanilla.