A recent check on the progress of the road being built to the Amaila Falls Hydropower Project (AFHP) site by President Donald Ramotar on Monday has highlighted a number of challenges that have to be overcome for its June deadline.
A Government Informa-tion Agency (GINA) press release said Ramotar, Minister of Public Works Robeson Benn and Technical Consultant Walter Willis flew to the area to inspect infrastructure from the Mabura trail to the Essequibo River.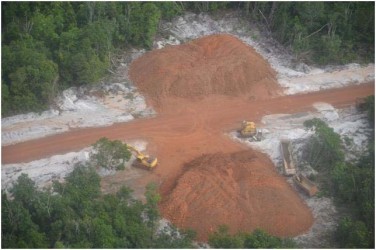 The team descended at Butukari to inspect the river crossing conditions before flying over the Kuribrong River into an area Benn described as one of concern which grants physical access to the falls. Fair weather and low water levels aided the team's ability to inspect critical areas.
The Amaila Falls project is one of several priority ventures being implemented under the Low Carbon Development Strategy.
While financing for the project has yet to be secured, it is likely to be concluded by the "second or third quarter of this year," the president said at a media briefing on Friday.
Ramotar also said that     the Inter-American Develop-ment Bank loan for the project hinges on a suite of protection measures that had been proposed after environmental impact studies had been conducted.
Last year the government dismissed the controversial Fip Motilall from the project and subcontracted the work to a number of companies.
Comments

A young mother of two was yesterday morning stabbed to death at Belmont, Mahaica, East Coast Demerara, by her estranged husband, who later ingested a poisonous substance and succumbed.

With PPP/C parliamentarians filing private criminal charges against two government ministers, Opposition Leader Bharrat Jagdeo yesterday warned that it was just the beginning and also dared the APNU+AFC administration to bring criminal charges against him for his actions while he served as president.

Oldendorff Carriers, the German-based transshipment company used by Rusal for exporting bauxite from Guyana, has announced that it is "winding up" its operations here due to United States sanctions against the Russian aluminium producer.
The Ministry of Public Infrastructure (MPI) yesterday announced that refunding of passengers who were left in the lurch by Dynamic International Airways will begin on May 2nd.