A recent check on the progress of the road being built to the Amaila Falls Hydropower Project (AFHP) site by President Donald Ramotar on Monday has highlighted a number of challenges that have to be overcome for its June deadline.
A Government Informa-tion Agency (GINA) press release said Ramotar, Minister of Public Works Robeson Benn and Technical Consultant Walter Willis flew to the area to inspect infrastructure from the Mabura trail to the Essequibo River.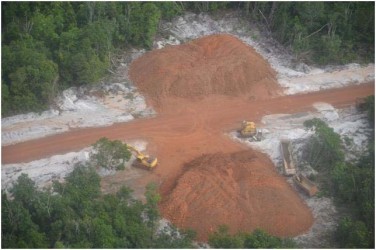 The team descended at Butukari to inspect the river crossing conditions before flying over the Kuribrong River into an area Benn described as one of concern which grants physical access to the falls. Fair weather and low water levels aided the team's ability to inspect critical areas.
The Amaila Falls project is one of several priority ventures being implemented under the Low Carbon Development Strategy.
While financing for the project has yet to be secured, it is likely to be concluded by the "second or third quarter of this year," the president said at a media briefing on Friday.
Ramotar also said that     the Inter-American Develop-ment Bank loan for the project hinges on a suite of protection measures that had been proposed after environmental impact studies had been conducted.
Last year the government dismissed the controversial Fip Motilall from the project and subcontracted the work to a number of companies.
Comments

Four weeks after passing a $267 billion budget for 2018, the National Assembly will debate a supplemental provision of $1.75 billion to meet a portion of the severance pay for around 4,000 sugar workers.

Autopsies performed on the bodies of Ambrose Baharally and Martin Godette, the Pomeroon farmers who were shot dead on Sunday, have found that both men died from gunshot injuries to the head.

The ground-breaking Whistleblower Protection Bill was passed in the National Assembly last evening without amendment, although there was opposition to the formulation of a commission to act as the governing body.

The preservation of land assets is essential to the creation of a green state and a good life for future generations, President David Granger said yesterday at the launch of a US$15M Sustainable Land Development and Management Project.

Contending that the previous administration failed to find sustainable ways to restructure the security sector and identify the root causes of crime, President David Granger yesterday said that government's determination to resuscitate the UK Security Sector Reform Action Plan (SSRP) is part of its efforts to take corrective action.