The body of a Corentyne fisherman missing since Monday was found yesterday afternoon near to the Berbice Bridge, another suspected victim of the treacherous seas off the coast of Guyana over the last few days.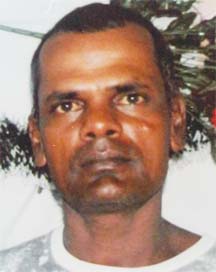 Naim Chand Ram's body was found by fishermen who operate on the West Berbice around 4 pm. The body of his brother, Hemchand Dowlatram, had been found on Tuesday tangled in a fishing seine.
The two had been out at sea on Monday in their boat when it capsized in rough waters. Waters just off the coast of Guyana were roiled by a weather front near the Lesser Antilles on Monday. It led to towering waves along the East Coast and other parts which crashed over the seawalls.
Jasmattie, 26, widow of Naim, 42, told Stabroek News last evening that she received a call and was told to go near to the Berbice River Bridge to see if the body found was that of her husband. She said when she arrived she was able to identify him.
She said her husband was the lone breadwinner of the family and now wonders where next to turn for help with her five children.
According to fishermen, the water was extremely high on Monday evening and many of them were forced to return home.  It is believed that the boat capsized with the two fishermen as a result of the heavy seas.
The body of Dowlatram, 52, of Long Dam, Hog Town, Kilcoy, Corentyne was found on Tuesday morning at the Borlam channel, offshore the Corentyne sometime around 8:30 am, and was brought to the Albion channel.
Dowlatram leaves to mourn his wife, daughters, Lotadevi 18, and Thanuja, 16, son-in-law, granddaughter and other family and friends.
Comments

A jet plane flies by the total solar eclipse in Guernsey, Wyoming U.S.

Superstar opener Chris Gayle … returns to the West Indies side for the first time in over two years.

The Church Street hotel and casino Hotelier Clifton Bacchus today filed a $2 billion lawsuit against the state-owned Guyana Chronicle newspaper following its publication of two recent articles which he has described as "highly defamatory." Guyana National Newspapers Limited, which is the publisher of the Guyana Chronicle, and the editor of the Guyana Chronicle were listed as the defendants in the suit, which was filed by a team of lawyers headed by former Attorney-General Anil Nandlall.

LONDON, (Reuters) – The gradual decline of West Indian cricket is hardly a new phenomenon but the latest capitulation of a once-dominant test match power has brought genuine expressions of sadness throughout the sport.

Eleven residents of the juvenile correctional centre at Onderneeming on the Essequibo Coast were apprehended between yesterday and this morning.