The Ministry of Local Government and Regional Development and several other Ministries are on a three-day exercise to address the solid waste problem in Georgetown, a release from the Government Information Agency (GINA) said.
The Agriculture, Health, Public Works, Tourism and Natural Resources ministries are supporting this exercise which ends today.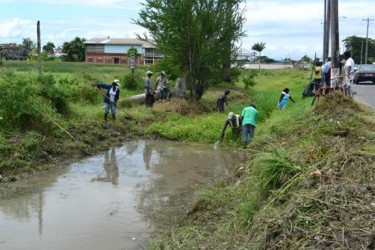 According to GINA, the City Council is not directly involved in this clean-up due to limited resources in terms of equipment.
Minister within the Ministry of Local Government and Regional Development, Norman Whittaker said that his ministry has not taken over the role of the Georgetown municipality, "Ultimately, we as a government have a responsibility to the citizens of this country to ensure that the environment in which they live is kept clean."
The exercise which started on Wednesday was conducted in Thomas Lands, Alberttown, Queenstown and Kingston.  Whittaker visited some of the areas to observe the progress of work as workers were dealing with silted-up drains, vegetation overgrowth and garbage piles.
Head of solid waste management in the ministry, Gordon Gilkes said that despite some setbacks, work is progressing.  He said that there was some difficulty in cleaning the drains because of heavy vegetation overgrowth, and expressed gratitude to the ministries and various groups which are involved in the exercise.
GINA said that coming out from discussions, Whittaker said that the local government ministry and the municipal officers will reach out to the various wards and groups within the city responsible for garbage to determine where the biggest challenges are.
Comments


The National Accreditation Council of Guyana (NAC) is advising the public that the American Medical Institution is not registered with the NAC as is legally required for post-secondary and tertiary educational institutions operating in Guyana.

MUMBAI, (Reuters) – India captain Virat Kohli had something to cheer on Thursday when he was named ICC World Cricketer of the Year, a day after suffering his first test series defeat as skipper in South Africa.

Fifteen city councillors voted yesterday in favour of accepting the recommendations of the parking meter renegotiation committee, which would see a reduction in parking fees to $150 per hour, exemptions for religious organisations and schools, and Smart City Solutions (SCS) giving up on their claim to garage parking.

A GDF rank was yesterday remanded to prison over three armed robbery charges and alleged possession of an unlicensed gun and ammunition.
Minister of Natural Resources and Leader of the Alliance for Change (AFC), Raphael Trotman on Monday praised ExxonMobil for investing in the oil sector here and said it is now resulting in other important companies wanting to do business here.