Minister of Culture, Youth and Sport, Dr Frank Anthony handed over a number of tennis tables to the REOs of various hinterland communities as it advances its sport development programme in schools.
According to a Govern-ment Information Agency (GINA) report, each region received one table, which the REOs were urged to place in school dormitories.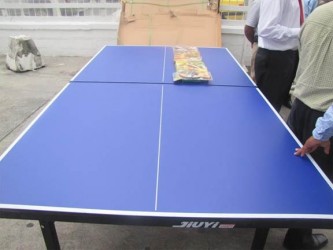 "We want boards going into the schools, and then we want the schools taking part in our table tennis championship," Anthony said. The championship has been held for several years in Georgetown, but it has been observed that schools in the other regions do not participate.  The minister also told the REOs that a coach can be deployed to their communities to provide training. He noted too that during the year, the ministry will be establishing a programme for persons to be trained as level one coach. To further advance sport development countrywide, the ministry has upgraded a number of sport arenas, distributed sport gear and organised sport clubs across the ten regions.
Tennis tables will soon be distributed on the coastland.
Comments

A jet plane flies by the total solar eclipse in Guernsey, Wyoming U.S.

Superstar opener Chris Gayle … returns to the West Indies side for the first time in over two years.

The Church Street hotel and casino Hotelier Clifton Bacchus today filed a $2 billion lawsuit against the state-owned Guyana Chronicle newspaper following its publication of two recent articles which he has described as "highly defamatory." Guyana National Newspapers Limited, which is the publisher of the Guyana Chronicle, and the editor of the Guyana Chronicle were listed as the defendants in the suit, which was filed by a team of lawyers headed by former Attorney-General Anil Nandlall.

LONDON, (Reuters) – The gradual decline of West Indian cricket is hardly a new phenomenon but the latest capitulation of a once-dominant test match power has brought genuine expressions of sadness throughout the sport.

Eleven residents of the juvenile correctional centre at Onderneeming on the Essequibo Coast were apprehended between yesterday and this morning.