Over 30 persons were yesterday arrested after the Guyana Police Force conducted a raid at the Stabroek Market Square after a robbery was reported in the area.
Police later said that 36 persons were arrested, while a quantity of pronto leaves (marijuana) along with gold jewellery, two welding torches and 100 cell phones, suspected to be stolen or unlawfully obtained, were seized in the operation.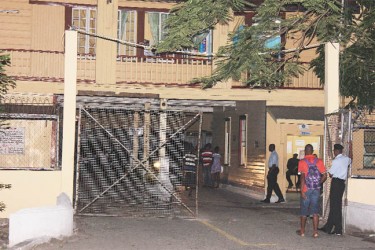 Some of those held were subsequently released last evening.
At the Stabroek Market in the wake of the midday operation, eyewitnesses claimed that the situation could have been handled differently, while claiming that passers-by and shoppers were also taken into police vans and escorted to the Brickdam Police Station.
One stallholder said that a man who was coming out of a minibus was grabbed by an officer, handcuffed and taken into a van after he tried to resist arrest.
Another person said that he believed the operation was justified since there are a large number of salesmen who normally sell ill-gotten products "under the clock," which encouraged a number of robberies at the market.
This newspaper was told that the raid was triggered by a robbery in the area.
When this newspaper visited the Brickdam Police Station last evening, loud voices were heard coming out of a room at the top flat, where some of the detainees were held, while the main gate remained closed.
Dozens of persons were outside the police station waiting for the release of family members. One by one, persons were seen coming out and they were then taken away by family members.
When asked to comment about what transpired, many persons declined, including one who complained of being traumatised by the ordeal.
A family member of one of the detainees, who declined to give a name, said, "Watch, a woman wah just gone with she husband, she was going home after shopping and they pick she up and throw she in the van. Those things could be fair?" the woman said.
She added that her nephew had to lodge his phone and other valuables before he was released from custody. There were no reports of any brutality.
Comments

The Public Procurement Commission (PPC) hopes that by the end of this year debarment legislation would be in place as it will soon begin meeting with stakeholders on a draft.

A bill to provide a legal framework for the protection of witnesses was passed without amendment by the National Assembly on Friday evening despite arguments by the parliamentary opposition that it failed to take into account modern challenges.

The ownership of over $7 million in local and foreign currencies and several vehicles that were all seized during a raid by the Customs Anti-Narcotics Unit (CANU) at Soesdyke, East Bank Demerara on Friday has raised questions and a separate probe is expected to be launched.

Weeks after its major oil find at the offshore Ranger-1 well in the Stabroek Block, ExxonMobil's local subsidiary is preparing to begin drilling at the Pacora-1 well site in the same area.

The final days for cancer patients can be consumed by pain and loneliness.