A Guyana Defence Force (GDF) Lance Corporal yesterday morning collapsed and subsequently died during an annual five-mile fitness exercise.
Lance Corporal Eon Blair, 28, of 305 Number 51 Village, Corentyne, Berbice, was participating in the run with other members of his unit when he experienced chest pains in the vicinity of the Umana Yana on High Street, the GDF later said in a release.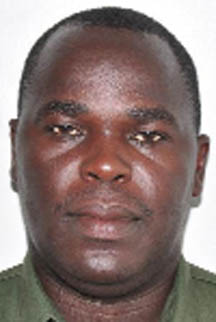 "He was immediately placed into the accompanying ambulance and taken to the Force's Medical Centre in Camp Ayanganna, then subsequently transferred to the Georgetown Public Hospital Corporation where he died," the release added.
Blair, who was stationed in the army's Intelligence Unit, had been a member of the GDF for the past nine years.
His wife, Latoya Blair told Stabroek News that she was shocked by his sudden demise, since besides being a diabetic he had no known heart condition. She said she last saw her husband, and the father of her three children, on Thursday and he had no complaint of feeling unwell and did everything as per normal. "I… didn't hear from he yet yesterday only to receive a call from a lady asking if I hear the news. I said 'What news?' and I begin to get frighten so I say come on tell me and she say Eon dead this morning," the woman sobbed.
"I keep repeating 'Just like that? Just like that?' because I can't believe that he gone… It hard real hard handle," she added.
The housewife, who stays home to take of the children—boys aged 7, 4 and a girl aged 2—said that a member of her husband's squad told her that while on the run he began complaining of feeling unwell and said he had stomach pains. She was told that the drill supervisor ignored him saying, "he always saying that" and it was not until he collapsed that persons rushed to his aid.
She said officials from the GDF visited her home yesterday and formally informed her of her husband's death while advising her that she had to be present to witness his post-mortem examination on Monday morning.
The woman described her husband as her helper and true friend. She said that he loved going to church and assisting his family with household chores.
As he was also the sole breadwinner she is now left pondering her and her children's future. But she was confident that her faith in God will help them get through not only this sorrowful ordeal, but moving on without their beloved.
Comments

Four weeks after passing a $267 billion budget for 2018, the National Assembly will debate a supplemental provision of $1.75 billion to meet a portion of the severance pay for around 4,000 sugar workers.

Autopsies performed on the bodies of Ambrose Baharally and Martin Godette, the Pomeroon farmers who were shot dead on Sunday, have found that both men died from gunshot injuries to the head.

The ground-breaking Whistleblower Protection Bill was passed in the National Assembly last evening without amendment, although there was opposition to the formulation of a commission to act as the governing body.

The preservation of land assets is essential to the creation of a green state and a good life for future generations, President David Granger said yesterday at the launch of a US$15M Sustainable Land Development and Management Project.

Contending that the previous administration failed to find sustainable ways to restructure the security sector and identify the root causes of crime, President David Granger yesterday said that government's determination to resuscitate the UK Security Sector Reform Action Plan (SSRP) is part of its efforts to take corrective action.