Digicel last Saturday handed over a refurbished community centre to the residents of Matthew's Ridge, Region One.
Digicel's Director of Marketing Jacqueline James in her address to the gathering said that the company was pleased to have renovated the facility.
In collecting the keys, Shondell St. Juste, Member of the Regional Democratic Council said that the rehabilitated facility will definitely be put to good use.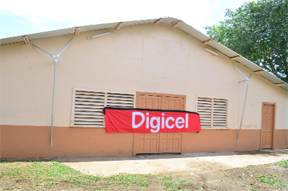 A Partnership for National Unity Member of Parliament with responsibility for Region 1, Richard Allen said that Matthew's Ridge will once again be a sporting hub for Region 1.
The Community Centre which is also used for magistrate's court sittings had been in a state of disrepair reportedly for some nineteen years.
Allen however said this was not quite true since the Community Centre was used to house athletes whenever sporting facilities are held there. The centre he said, too, housed and still houses the Magistrate's Court.
"Because of the disrepair of the community centre we could no longer have games at Matthew's Ridge, having persons overnighting because the community centre was not in a good state. Dominoes which is played a lot in Region 1 could no longer be played at the centre, but had to be shifted to shops in the community instead. And more so, the community centre was in such a state that the Magistrate began to complain about it".
Now that the community centre has been refurbished, the residents of Matthew's Ridge will work to get it back to what it was before. The Centre Allen said had steel pans and table tennis tables, which saw that students were gainfully occupied.
"Monday I went into Matthew's Ridge and when I looked at the building and thought of what it was to what it is now we say thank you to Digicel for a job well done and we pledge that we will take care of the facility. I have not gotten from them the sum that was spent, but I know it had to be substantial because the entire roof has been repaired and the building has been painted inside and out".
One of the two stages, he said, was repaired. Residents, he said, have volunteered their services to maintain the facility.
"I trust that we will be able to get it wired and have electricity in it. And I know for a fact come February when the Magistrate goes to conduct court he will feel so comfortable in an atmosphere that is conducive to for work".
The one-month rehabilitation work to the centre which started in the first week of November included replacing the roof, installing new windows, building a new stage and painting of the facility.
There was no need to do any foundation work as the foundation and the steel frame were intact.
Comments

Eighteen prisoners at the Lusignan penitentiary were being treated for injuries last night following a reported attempt to kill a fellow inmate during which warders fired shots.

A 12-year-old girl is now dead, while her brother narrowly escaped a similar fate yesterday after their aunt's La Bonne Intention (LBI), East Coast Demerara house, which they were under, collapsed on them.

Guyana has officially applied for membership in the European Union's Extractive Industries Transparency Initiative (EITI) which will help in tracking revenues from oil and other natural resources.

State Minister Joseph Harmon yesterday reiterated that President David Granger's directive to the Police Service Commission to halt its consideration of promotions was intended to prevent damage to the image of the Guyana Police Force but he could not say under what authority the head of state acted.

While saying that a strong security presence along the country's borders is the first line of defence against transnational criminal syndicates, President David Granger yesterday called for cooperation by all actors to see the security of Region Nine as a priority.