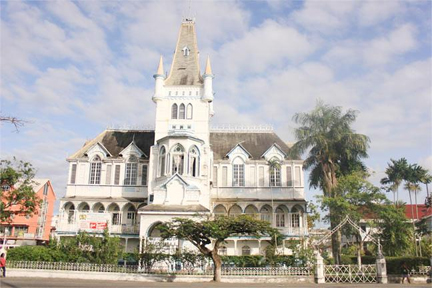 A special technical committee is being set up to put together a file on the City Hall building to facilitate its restoration, which a prominent engineer says needs to begin quickly.
Following a meeting on Wednesday on the restoration of City Hall, convened by Mayor Hamilton Green, the City's Engineer Department is expected to provide drawings, photographs and other materials to the council, according to a statement from Council spokesman Royston King. Another meeting is to be convened next Wednesday, he added, to appoint the special technical committee to begin putting together a "credible and useable document" on the building.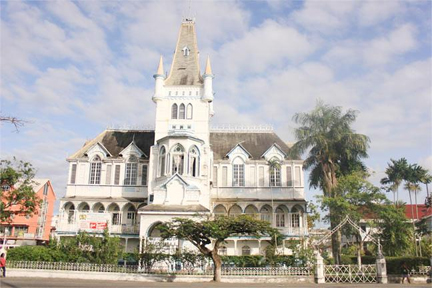 Green was quoted as saying that he wanted to focus on the restoration and not rehabilitation of the building, while adding that he had tried to persuade the council to move forward with a plan to restore the building but there were some technical difficulties associated with such work.
He noted that a cursory look at City Hall will reveal that it is collapsing and that he is aiming to develop a new system and a way of thinking that will identify the way forward to attain the objective of restoring the building.
The meeting was attended by council members and other city officials as well as representatives of the National Trust. Also present were engineers Bert Carter, Berkley Wickham, George Jardim, Bobby Hussein and cultural icon Eddy Grant.
Carter was quoted as saying that from a quick observation, the building's foundation seemed intact but the council needed to move forward urgently to begin restoration.
King said Grant expressed passionate concern for the restoration works to protect the cultural and architectural integrity of City Hall. Grant suggested that the council put in place an education system that will provide knowledge of local woods and other building materials as well as their various applications for which they can be used, particularly as it relates to buildings of historical and cultural significance.
He also said the works on the City Hall building must preserve the spirit and grace imbued by those who worked to design and construct it in 1889.
Comments

A police officer helps evacuate people after a van crashed into pedestrians near the Las Ramblas avenue in central Barcelona, Spain August 17, 2017.
A post-mortem examination is expected to be performed on the body of housewife Janice Edwards, 38, of 121 'C' Field, Sophia, ECD, to determine the cause of her death.

A sketch of the proposed Curepe Interchange (Trinidad Guardian) China Railway Construction Corporation (CRCC) has been awarded a $221.7 million contract by the National infrastructure Development Company (Nidco) to build the controversial Curepe Interchange, the state company's chairman Herbert George has confirmed.

Legal Advisor to the Police, retired Justice of Appeal, Claudette Singh yesterday testified that there was insufficient evidence in the allegation made by Andriff Gillard of an alleged plot to assassinate President David Granger.

Today at 2 pm the 30 councillors of the Georgetown City Council will once again cast a vote on the future of metered parking in the city and several of them have told Stabroek News that they want to be sure their vote accurately represents a mandate from residents.