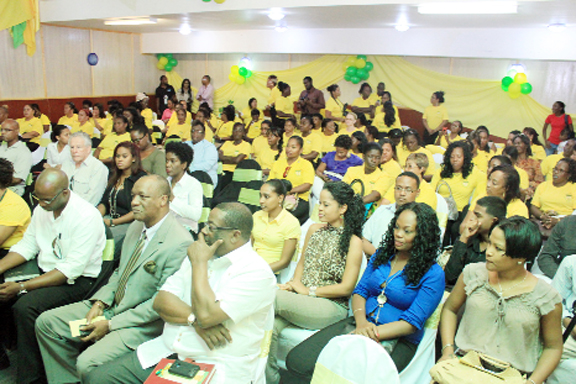 President of the Guyana Women Miners Organisation (GWMO) Simona Broomes yesterday pledged the organisation's support in the fight against human trafficking and other social ills in the interior, even as she bemoaned the "scant regard" from some government agencies that appear resistant to cooperating with the GWMO.
Broomes, in a stirring presentation–punctuated with personal experiences–at the organisation's first anniversary celebration at the Sea Breeze Hotel, said that the GWMO has seen enough in its many travels to confirm that trafficking in persons and child labour are serious problems.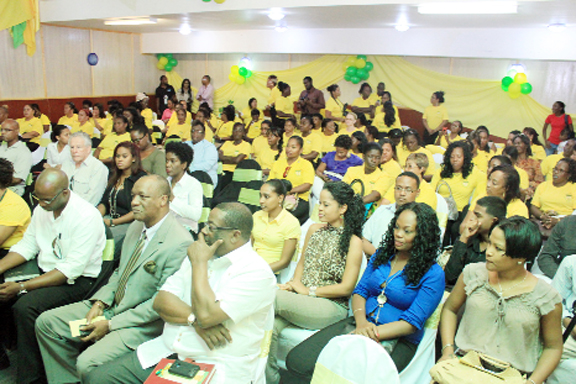 The organisation celebrated in fine style at the hotel. Its members, dressed in yellow jerseys, filled the room and they were joined by Prime Minister Samuel Hinds, Minister of Natural Resources and the Environment Robert Persaud, US Ambassador Brent Hardt, Canadian High Commissioner David Devine and Opposition Leader David Granger among others.
Broomes said the organisation would continue to be a "thorn in the side" of officials to ensure change and to see help for victims.
Minister Persaud, in his address, said that his ministry sees the organisation as a reliable partner in addressing some of the social issues in the mining sector. He admitted that there are some negative developments but said "we have seen" some vigour and true representation from the GWMO in having the matters addressed. One of those matters, he said, is trafficking in persons and he said noted the role of the organisation in highlighting the issue and bringing attention to suspected cases of underage girls and children working in the interior among other issues.
"I want to say that our policy within the mining sector or any sector across our country is zero tolerance to trafficking in persons, the abuse of children or women or any other negative social activity. I want the Guyana Women Miners Organisation to partner with the government and the related ministries, and related industries [on those issues]…" Persaud said.
He stressed that they need to combat and eradicate the issues together stating that the GWMO is an important soldier in the battle.
The US ambassador said there is need for persistent follow-up, investigation and prosecution and in protection of victims.
"It is really important to have that follow-up so that when the GWMO indentifies cases; brings vulnerable people to the attention of the government that they know they would get the protection they need and the perpetrator would be pursued to the extent of the law," Hardt said.
He said Broomes and her team have recognised that gender should not impede anyone's chances to pursue their interests and opportunities.
"The Guyana Women Miners Organisation has advocated for women who are denied pay simply because an employer feels a woman poses no threat, that she is weak and can be exploited. The Guyana Women Miners Organisation has also championed the inclusion of women in the mining sector by advocating for skill training opportunities for women interested in mining," Hardt said.
He commended the organisation for coming together and establishing itself in a sector traditionally dominated by men and for stepping "to the forefront of the global effort against forced prostitution, child labour, and other forms of trafficking and exploitation."
He commended Broomes for her leadership and said that the GWMO is a great example of the role that civil society organisations can play in effecting positive change.
"This organisation has shown that citizens in Guyana can take an active role in identifying and responding to the country's social needs," Hardt said.
He noted that in one year the GWMO has earned the respect of its members, people it has helped and those who have witnessed its efforts to promote female entrepreneurship, contribute to the growth of Guyana's economy, and "protect the rights and safety of women and others in the mining communities."
Shelter
Meantime, the GWMO president called for more to be done for the victims of human trafficking and those who are exploited by unscrupulous employers. She said her organisation is advocating for a special shelter to be built for these persons.
"These women should not be placed in homes for battered women and they should not be treated like prisoners, rather there should be specially trained personnel available to work with them," she suggested.
She also encouraged women to have signed contracts before they travel to the interior to work as this may better help them to hold 'employers' to their promise. She said without this they may be unable to get any redress from the Ministry of Labour. "We have sent many… women to the Ministry of Labour, but we are sad to report that not one of them managed to get paid and some were never even contacted again by the ministry. I understand that it might be difficult for the Ministry of Labour to get any redress for the women as some employers deny ever employing them and that is why the GWMO is strongly advising women to get something in writing before proceeding to work in the interior," Broomes said.
She added that women miners are also being taken advantage of by men who work for them and gave a personal experience of this. She recalled paying two men large sums of money to work for her; she even had them sign contracts. The men travelled to the interior, but instead of going to her mining camp, they proceeded to the location owned by the now dead former police commissioner Henry Greene. Broomes said when she heard whose claim the men were working on she had some hope that she could have met the former commissioner and he would have ensured that the men honoured their contracts. However, she said when she met Greene he just told her, "they working for me now".
She said she gave that example just to demonstrate how women working in the interior are exploited from all fronts and said the GWMO "will fight to bring an end to exploitation."
Broomes also called for proper settlements to be established in the interior and said that persons should be prevented from setting up shops at their whims and fancy since these types of operations breed trafficking in persons and other illegal activities.
She also asked for better incentives to be made available for small miners such as duty-free concessions and for more police outposts to be set up in remote locations. The police manning those outposts should be treated differently from those stationed in coastal areas since they would be faced with more difficulties.
Broomes said the organisation will work towards developing better relationships with Amerindian villages–something the Prime Minister suggested in his presentation—and she also plugged for better communication and transportation for those communities. She revealed that they have heard "many troubling stories" from numerous villages during their travels and they will work towards helping them.
"Together we will eradicate child labour, trafficking in persons and other social ills," Broomes said to rousing applause.
Women in mining
Persaud in further remarks said the organisation was celebrating its first anniversary at an exciting and challenging time in the development of the mining sector in Guyana, which is one of the country's largest employers. He expressed the hope that the industry will be shaped and crafted in a way that responds to the needs of the women who work there and are involved in mining.
"The evolving vision and role of women in mining is to develop women to be independent and successful property owners, miners, managers, professionals and sub-professionals; for the mining sector to be a place where persons can enjoy well paid jobs, have satisfaction and also have levels of respectability," Persaud said.
He said women's involvement in mining must be respected and that environment must be created. Persaud also cautioned that the growth of the industry must not hamper the overall development of the country and he said the GWMO can play an important role in this issue by "allowing us to respond to some of these challenges and at the same time allowing us to deal with some of the potential issues that we may have." He said the GWMO, working in partnership with other agencies, can support government's efforts to ensure that there is compliance, effective monitoring and enforcement.
Persaud said more men than women still work in the interior and there are certain jobs that are predominantly done by men. It is important, he said, that the capacity of women be developed so they can take part in any aspect of mining.
"We would need to intensify education and intensify awareness across the industry, but especially for our womenfolk who want to be involved in mining and mining-related activity," Persaud said.
Canadian High Commissioner David Devine noted that over the last year the GWMO has taken on a number of serious issues as it laboured to become a voice "for not only women but also for social change".
"As women miners you should proud of what you would have accomplished over the last year," Devine said adding that the contribution women make globally to the mining industry is worthy of celebration.
He said the rapid growth of the sector has not always allowed for true integration of women who secure jobs and catered for their health and safety. For instance, he said, personal protective equipment for women is still lagging behind as over the years there has been no adjustment to designs to meet the needs of female workers in the mining sector.
Noting that globally women miners experience harassment and inhumane treatment from fellow workers, Devine said no woman should experience any sort of intimidation at the workplace that inhibits her from becoming more productive and as best employed as she could be.
Comments


The National Accreditation Council of Guyana (NAC) is advising the public that the American Medical Institution is not registered with the NAC as is legally required for post-secondary and tertiary educational institutions operating in Guyana.

Fifteen city councillors voted yesterday in favour of accepting the recommendations of the parking meter renegotiation committee, which would see a reduction in parking fees to $150 per hour, exemptions for religious organisations and schools, and Smart City Solutions (SCS) giving up on their claim to garage parking.

A GDF rank was yesterday remanded to prison over three armed robbery charges and alleged possession of an unlicensed gun and ammunition.
Minister of Natural Resources and Leader of the Alliance for Change (AFC), Raphael Trotman on Monday praised ExxonMobil for investing in the oil sector here and said it is now resulting in other important companies wanting to do business here.

The city lance corporal, who on Sunday allegedly shot and killed Marlon Fredericks, a mentally-challenged vendor, after he reportedly attempted to flee custody is to be charged with manslaughter.