David Grimmond is a shadow of what he was just ten years ago but at the very ripe old age of one hundred and four he still moves around, sits up straight, has his eyesight and can respond to questions – that is, if you shout as his hearing has deteriorated over the years.
He remembers that he was born on November 8 and that he will be 105 this year but that is about it as he now can no longer remember his wife's name or the names of his children. His daughter Rose said her dad's memory had sadly left him in recent years and just about ten years ago he could have been referred to as a "good history book."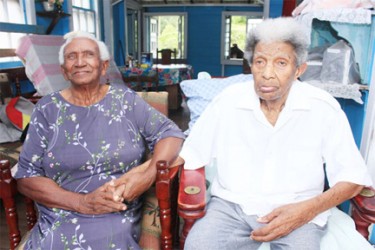 He grew up right opposite Fort Nassau which was once the headquarters of the Dutch in Berbice, and was among the places which the revolutionaries controlled during the Berbice uprising 250 years ago. Rose said he would tell stories of seeing the remnants of a "Dutch" ship that had sunk at the location before it was eventually removed.
David and his wife Avril now spend their time sitting; he looks at the river flowing by while she maybe listens to the chirping of the birds since she has lost her eyesight. At 85 Avril Grimmond is still very lucid and she told the Sunday Stabroek that she listens to the news and at times would attempt to explain what she has heard on the radio to her husband, although she admits that it is a very difficult process.
"Sometimes he say he don't understand and I have to start back from the beginning again," she said with a small laugh.
For years she has been known for her ready laughter which she still displays.  The couple have been married for some 65 years and the union produced four daughters, although both had a son each before they met.
When the Sunday Stabroek arrived at the couple's Fort Nassau home David Grimmond was in bed in a state of undress and his daughter indicated that it might be difficult to speak to him then. But on hearing that someone was there to speak to him – it certainly would break the monotony of his days – he insisted that he get dressed to meet the person.
He then left his bed and refusing the offer of assistance from his grandson, walked to his Berbice chair, where he sat upright throughout the brief conversation.
Asked how he was doing he responded, "A deh." He then said he really does not have anyone to speak to and when it was suggested that he could speak to his wife he countered, "We does hardly talk, wah we get to talk?"
It was at this point his wife, who was in her bedroom at the time, joined the conversation and while he could not remember her name or how long they had been married she quickly provided the information.
Asked what sort of work he did in his early days Cousin David, as he is called by many, said that he did "all sorts of work, work all about, can't remember now."
According to his wife he farmed, worked at a dispenser and on a cattle ranch, among other jobs, and as she put it, he "had a lot of experiences in life."
"I don't like rice but I have to eat it," Cousin David said when he was asked what he liked to eat, adding that he prefers plantain and eddo. And he still has 'spunk' which he displayed when this newspaper's photographer approached him and informed him that he was a photographer but provided no other information.
"You is the photographer so what you want me to do?" quipped Cousin David much to the surprise of the photographer and others who were around.
The couple's daughter Rose said she has the sole responsibility of taking care of her parents and she admits that it is a task which sometimes can be beyond her, although she quickly added with a smile that she "tries" her best.
Cousin David may or may not be the oldest resident of the Berbice River, but if not, there can be few others older than he.
Comments

A sketch of the proposed Curepe Interchange (Trinidad Guardian) China Railway Construction Corporation (CRCC) has been awarded a $221.7 million contract by the National infrastructure Development Company (Nidco) to build the controversial Curepe Interchange, the state company's chairman Herbert George has confirmed.

Legal Advisor to the Police, retired Justice of Appeal, Claudette Singh yesterday testified that there was insufficient evidence in the allegation made by Andriff Gillard of an alleged plot to assassinate President David Granger.

Today at 2 pm the 30 councillors of the Georgetown City Council will once again cast a vote on the future of metered parking in the city and several of them have told Stabroek News that they want to be sure their vote accurately represents a mandate from residents.

Crime Chief Wendell Blanhum yesterday made a written request to be recalled before the Commission of Inquiry (CoI) investigating the allegation of a plot to kill the President of Guyana to defend himself against "appalling" statements made by Assistant Commissioner of Police David Ramnarine.

Two men were yesterday remanded to prison by a city magistrate after they were charged with the fatal stabbing of Rawle Rodrigues which occurred in January.