A 13-year-old boy was brought out of the Arimu backdam in Region Seven on Saturday night so ill with malaria that he is now hospitalized at the Bartica Hospital.
While he has indicated that he was only in the interior for a week, reports are that his father has had him at the location for quite some time helping him in a shop he operates.
According to Carol Fredricks, a member of the Guyana Women Miners' Organisation (GWMO),she received a call from an unknown person on Saturday night informing her that the child was being transported to Bartica after he had taken ill. Fredricks said she visited the hospital yesterday morning where she found the child and he told her that his age was 13. The child said he is from Sand Pit, Essequibo and that he was taken to the area by his father to "see the place" about a week ago. He also related that his father had only left him for a day to purchase stocks for the shop when he got ill. The child also said he attends school and that his mother had died.
The GWMO member said she believes that the child was coached on what to say before she spoke to him. She said the child had relatives visit him at the hospital and she later left as there was no assistance she could have offered the child at the time.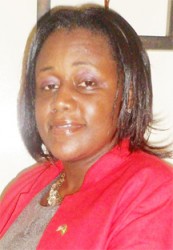 President of the GWMO Simona Broomes said she also received a call about the child's plight at around 1:05am and the caller-who she does not know-told her he was calling from a satellite phone and that he just wanted to inform her of the case. Broomes said that she was told that the child was in the backdam for quite some time helping out his father who later left him in charge of the shop to travel to purchase stocks.
She said she has since called the Ministry of Human Services & Social Security hotline and reported the case and it is her hope that the matter would be thoroughly investigated.
Broomes, who only last Friday at the organisation's one-year anniversary celebration had said child labour and human trafficking are big problems in the interior and called for more collaboration with state agencies, said the child's story does not add up. She questioned whether the child indeed attends school, pointing out that he was in the backdam where they are no schools.
"It is now for the ministry officials to check to see if he really attended school and if so to check the registry and find out when last he attended school, these are things we as an organization cannot do," Broomes told this newspaper.
She said the organization will continue to report such matters to the ministry and would also support victims who may be in need.
The GWMO president said she understands that the child has relatives in Bartica who were very upset that a member of her organization visited him but she said they are not daunted.
"I want to say I am a Bartician and once the law is being broken I don't care by whom we will fight against it and inform the authorities and hopefully persons will be prosecuted and victims will get help, Broomes declared.
"I have no apologies to make, if the relatives are upset then so be it we will continue to do what needs to be done," she added.
She said the interior is no place for children and parents need to understand this. According to Broomes she is a mother of three and she never took her children into the interior and "I never miss a PTA meeting."
"This child needs to be in school, he should not be in the interior. It is a hazardous place and not for children and it needs to stop," she said.
Comments

Grace Mugabe   HARARE,  (Reuters) – Zimbabwe's first lady Grace Mugabe returned from South Africa early today, state media reported, after a 20-year-old model accused her of assault in an upmarket Johannesburg hotel room.

Michael Bhopaul, 16, doesn't know if he is this year's best performer at    the Caribbean Secondary Examination Certificate (CSEC) Examinations, but with preliminary results showing that he has obtained passes in 25 subjects, he will be hard to top.

Inmates at the Lusignan Prison turned over 33 improvised weapons yesterday morning to prison authorities, who say that they also apologised to the prison staff for the unrest at the facility on Friday night.

Well known Berbice attorney Chandra Sohan was arrested on Friday after he allegedly struck a pedestrian in a hit and run accident along the Williamsburg Public Road.

For a little more than an hour yesterday, the streets outside the Mackenzie Market rang with the voices of dozens of Linden residents who turned out to support a march against homosexuality.