US Ambassador, D. Brent Hardt on Friday, presented to the Ministry of Culture, Youth and Sports, a Toyota Prado Land Cruiser to be used by the New Opportunity Corps (NOC), a release from the Embassy said.
The donation complements US aid under the Skills and Knowledge for Youth Employment (SKYE) project.  The USAID SKYE project focuses on ramping up employment, education, and other opportunities for at-risk youth; reintegrating youth offenders into society; promoting diversion and alternative sentencing for youth within the justice system; and bolstering the environment for youth development in Guyana.  The NOC is one of the key partners that receive assistance under the SKYE project.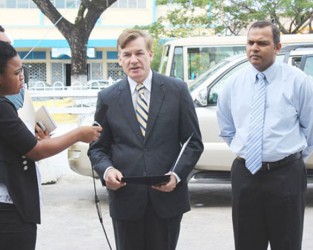 The release said that through the project, youth within the NOC tap support to facilitate reintegration into their communities after they exit correction facilities.  An employment coach resident at the facility guides youth in the working up of employability plans.
To complement this coaching support, SKYE pairs up with local organisations to provide work readiness training so the youth can learn skills needed to gain and keep employment.
Comments

A jet plane flies by the total solar eclipse in Guernsey, Wyoming U.S.

Superstar opener Chris Gayle … returns to the West Indies side for the first time in over two years.

The Church Street hotel and casino Hotelier Clifton Bacchus today filed a $2 billion lawsuit against the state-owned Guyana Chronicle newspaper following its publication of two recent articles which he has described as "highly defamatory." Guyana National Newspapers Limited, which is the publisher of the Guyana Chronicle, and the editor of the Guyana Chronicle were listed as the defendants in the suit, which was filed by a team of lawyers headed by former Attorney-General Anil Nandlall.

LONDON, (Reuters) – The gradual decline of West Indian cricket is hardly a new phenomenon but the latest capitulation of a once-dominant test match power has brought genuine expressions of sadness throughout the sport.

Eleven residents of the juvenile correctional centre at Onderneeming on the Essequibo Coast were apprehended between yesterday and this morning.