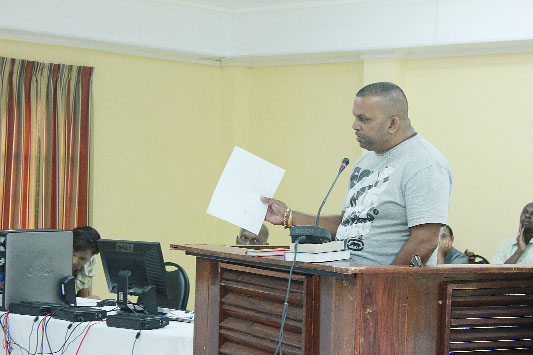 Nine more witnesses, including persons whose businesses were destroyed in the July 18 and 19 Linden protest, testified before the Linden Commission of Inquiry (COI) yesterday as it continued to hear the testimony of those seeking compensation for their losses.
Members of the COI yesterday continued to examine the claims submitted by the various persons at the Supreme Court building and a report containing the recommendations of  the last hearing, which concluded in November last, as well as the current one is expected to be available  by February 28, 2013, secretary of the COI, Hugh  Denbow, said.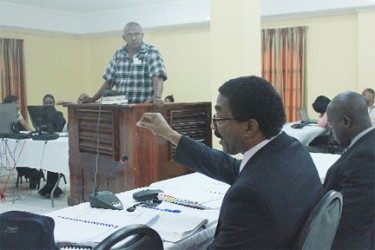 Business owners, Narindra Lachman, Compton Fraser, Ramchand Mangra and Savatri Klautky, are seeking compensation for their properties which were wrecked during the protest. Fraser works for the People's Progressive Party (PPP) in Linden and he was seeking compensation for the destruction of the PPP office which was burnt down while Lachman told the commissioners that he is the owner of a construction company in Linden and during the protest his truck which cost $6M, his excavator valued at $7.2M and a pressure washer which cost $600,000, in addition to other tools were damaged.
Lachman was asked by Senior Counsel K.D. Knight, one of the commissioners, if his equipment was insured to which he replied "yes."  Knight then asked him if he had made claims to his insurance company for the losses but Lachman said that the insurance company told him that they do not cover claims such as destruction caused by riots or fire. He also said that he did not take out full insurance coverage so that may be the reason.
Attorney Latchmie Rahamat, who represented the business owners along with Peter Hugh, advised the commission that Lachman should get a copy of the actual contract that he signed with the insurance company since it will contain more information on the areas it does not provide coverage for and can be of assistance to the commission.
The commission then agreed to this and told Lachman that he should return tomorrow with a copy of the contract along with the receipts for his equipment.
Klautky testified before the commission about her ten greenheart logs valued at US$4305. Klautky said that she does not know what happened to her logs but saw on television that the truck transporting the logs was on fire. She added that when she went to the scene her logs were missing.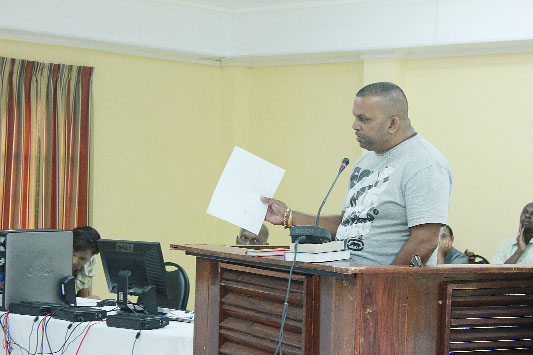 Chicken Plus owner Mangra said that everything in his business place was stolen by the protesters. He estimated his loss as $1, 357,200. Mangra said he sold chicken, other poultry and beef at his business place which was located at Burnham Drive. During the Linden protest he said that his plastic crates- used to transport the birds, a generator, two plucking machines, a black water tank, two freezers, zinc sheets and mesh all went missing from his business place leaving the site desolate.
Mangra said that he has not been able to restart his business but  that he is in the process of doing so since he is preparing a plot of land in Amelia's Ward for his new location.
After his evidence, Mangra was cross-examined by attorney Basil Williams, who represents the people of Linden. He told Williams under cross- examination that he does not know who destroyed his business but said he supposed it is the people of Linden.
Williams then asked him why would he move his business from one place in Linden to the other even though he is claiming that the people of Linden destroyed his place in the first instance?
In response, Mangra told members of the COI that he is not afraid of anyone if that was what Williams was asking him.
However, at one point in his testimony, Mangra stated that since the protest he had abandoned his house, which is located long the Demerara River, and had been in hiding because persons were looking for him in Linden and saying that they would harm him.
This prompted Williams to ask him if he was now saying that he was not afraid why had he been in hiding and since when he had he become afraid of the people in Linden?
This caused Mangra to become upset and he had to be cautioned by Chairman of the COI, former Chief Justice of Jamaica, Lensley Wolfe, and Knight to keep his voice down.
Knight then told Williams that Mangra's decision to continue his business in Linden could be because the protest has ended while adding that business is a risk, so if he is taking risks how can he (Williams) castigate him.
Video
More videos:  http://www.stabroeknews.com/2013/media/videos/01/30/linden-coi-business-owners-testify/
Five
The other five witnesses who testified at yesterday's session of the COI were Michael Roberts, Dexter Scotland, Yolanda Hinds, Mortimer Cordel and Hector Solomon Jr. Scotland was shot in his face during the protest and is seeking payment for lost earnings due to his injuries which he said averaged  $15,000 per day in addition to transportation costs and clothing.
Protester Solomon was also shot and unable to continue working as a porter. He said he cannot lift anything heavy because of his injuries and as such he is claiming $140,000 while Hinds is seeking compensation for the 28 days she could not work after she too was shot with pellets.
Like the other persons, Cordel is hoping to be compensated for the losses he incurred after he was shot. He said he owns a poultry farm and a car wash which used to bring in an income of $3,000 per day combined.
Gold miner Roberts was shot in his face and sustained a broken jawbone as a result.
Roberts said that he lost 14 of his teeth in the process and as such he cannot eat solid food to date. The man said that he now has to wear dentures at the top and bottom of his mouth.
He also told the commissioners that he had received assistance from Human Services Minister Jennifer Webster and if he should be compensated he would like to repay her so that she can help others like she helped him. This statement by Roberts was applauded by commissioner Knight.
Roberts also said that he has not worked since he was injured and as such he is seeking reimbursement for the $17,000 transportation fees his wife spent while he was in the hospital, his shirt and pants which were valued at $9000 and his lost earnings.
Due to his injuries, Roberts will have to be examined by a doctor to assess his condition and return with the report to the COI so a complete assessment of his claims can be done. The commission will continue today with more persons testifying.
Comments

Wijeyadasa Rajapakshe   COLOMBO, (Reuters) – Sri Lankan President Maithripala Sirisena today sacked the justice minister over his criticism of a $1.1 billion deal, signed last month, to lease a port to a Chinese company, the cabinet spokesman said.

NEW YORK,  (Reuters) – Two Harvard University researchers said in a study published today they had collected scientific data proving Exxon Mobil Corp made "explicit factual misrepresentations" in newspaper ads it purchased to convey its views on the oil industry and climate science.

In the wake of rising bad loans and a massive alleged fraud against it this year, the Guyana Bank for Trade and Industry (GBTI) has posted an unaudited net after tax profit of $603m for the first six months of this year compared to $961m in the same period for 2016.

Vamanadev Hiralall, of the privately-run Saraswati Vidya Niketan (SVN), is the country's top performer at this year's Caribbean Advanced Proficiency Examinations (CAPE) after achieving an accumulated 13 grade one and 3 grade two passes.

Twenty-six students in the top one percent of the 12,684 who sat this year's Caribbean Secondary Education Certification (CSEC) examinations earned 12 or more Grade I passes, with half of them, including the top performer, coming from Queen's College (QC).