A contractor is among eight persons who were questioned in connection with the murder of 70-year-old Jasmattie Pooran of Guava Bush, Albion, Corentyne.
Pooran's battered body was found bound and gagged around 11:10 am on January 19 on the floor of her kitchen.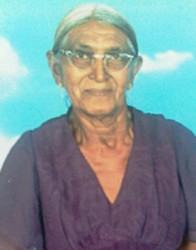 Sources told Stabroek News the contractor who owns a plot of land close to where the woman lived had an issue with her over it.
There are reports that the contractor had accused the woman of fencing a small portion of land that belonged to him.
According to the sources, the woman refused to remove the fence and there had been a threat.
This newspaper was told that the man who has several ailments was released a few hours after being held after his doctor spoke to the police.
The sources could not say if or when charges would be laid against any of the suspects but said the matter was still being investigated.
They said it was normal procedure during any investigation for police to hold persons for questioning.
Pooran's body bore bruises, her hands were tied together with cloth and a piece of canvas rope was tied over her mouth.
A relative had said that judging from the bruises about her body, it appeared as though the woman was severely beaten and dragged by her assailant/s.
Pooran's killing is the third for the year in Berbice. It came three days after the murder of 28-year-old Bhanmattie Devi Bacchus called Patricia of Angoy's Avenue, New Amsterdam. Bacchus was hacked to death by her estranged partner Narendra Thakoor, called 'Dado,' 44, who later died having ingested a poisonous substance.
On January 7, Jagdat 'Ronald' Ramcharran of Bloomfield, Corentyne was murdered while guarding a mandir at Williamsburg.
Ramcharran was found on the porch of the mandir with his hands and feet bound and a piece of cloth tied tightly around the neck.
Comments

Grace Mugabe   HARARE,  (Reuters) – Zimbabwe's first lady Grace Mugabe returned from South Africa early today, state media reported, after a 20-year-old model accused her of assault in an upmarket Johannesburg hotel room.

Michael Bhopaul, 16, doesn't know if he is this year's best performer at    the Caribbean Secondary Examination Certificate (CSEC) Examinations, but with preliminary results showing that he has obtained passes in 25 subjects, he will be hard to top.

Inmates at the Lusignan Prison turned over 33 improvised weapons yesterday morning to prison authorities, who say that they also apologised to the prison staff for the unrest at the facility on Friday night.

Well known Berbice attorney Chandra Sohan was arrested on Friday after he allegedly struck a pedestrian in a hit and run accident along the Williamsburg Public Road.

For a little more than an hour yesterday, the streets outside the Mackenzie Market rang with the voices of dozens of Linden residents who turned out to support a march against homosexuality.