Five days after businessman Imtiaz Roopnarine called `Bobby' was gunned down in the compound of the Cool Square Guesthouse, his killer remains at large.
Police sources told Stabroek News yesterday that there had been no arrest in the case but assured that investigations are continuing. One of Roopnarine's closest friends said that he has heard nothing new about the case.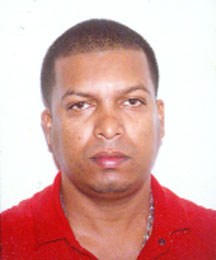 This newspaper was told that the police are checking all possible angles and are still to determine whether the motive was robbery or if it was a hit.
The last word from Crime Chief Seelall Persaud was that images from surveillance cameras located near the scene of the shooting were being enhanced.
Persaud said that although there are claims by the man's relatives that a gold chain and a gold band that he was wearing were stolen by the gunman who chased after him, the investigators were still looking to see if the shooting was robbery-related. He noted that there are a number of factors that the police are looking at, including Roopnarine's deportation from the US for aggravated assault, to ascertain why he was targeted.
Roopnarine checked into the West Ruimveldt hotel around 4 am last Thursday and as he was about to leave around 5:30 am he saw the gunman. In a bid to escape from him he ran around the side of the building but was pursued by the gunman who scaled the fence. He was later shot in the mouth.
Sources told this newspaper that based on the information gathered by investigators, two men were seen lurking outside the guesthouse just before the shooting. It is believed that the gunman was one of those men.
Comments

GEORGETOWN, Guyana,  CMC – Jason Mohammed completed his seventh first class hundred but there was little joy for Trinidad and Tobago Red Force as Guyana Jaguars needed a mere 45 deliveries to pull off an innings and 81-run win in their final round match here today.

LIMA, (Reuters) – Pope Francis wrapped up his trip to Chile and Peru today by warning that Latin America was in a deep crisis from corruption, with politics in most countries "more sick than well." Speaking in improvised remarks to bishops, he mentioned the scandal involving construction company Odebrecht, which has admitted to paying billions in bribes, as an example of greed run amok across the continent of his birth.

SYDNEY,  (Reuters) – England's Jos Buttler struck a belligerent unbeaten 100 to set up a 16-run win over Australia in the third one-day international on Sunday, as the touring side took an unassailable 3-0 lead in the five-match series.

The Public Procurement Commission (PPC) hopes that by the end of this year debarment legislation would be in place as it will soon begin meeting with stakeholders on a draft.

A bill to provide a legal framework for the protection of witnesses was passed without amendment by the National Assembly on Friday evening despite arguments by the parliamentary opposition that it failed to take into account modern challenges.