A 25-year-old police recruit was shot dead in Tuschen, East Bank Essequibo last night by suspected robbers as he walked a dark, lonely street with his girlfriend.
Only a bag containing his police outfit was taken from Harold Haimchand Sukhai but it was dropped as the bandits fled. Sukhai was returning to the police training base at Eve Leary when the incident occurred shortly before 10 pm.
It was the first time that he had taken his girlfriend home, relatives said. Based on initial accounts, Sukhai was shot once in the chest. His body lay on the street for over half an hour as police conducted investigations. His girlfriend was later taken to the Leonora Police Station to give a statement.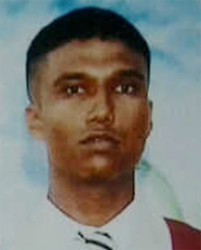 Sukhai's sister, Ramdularie Bissessar told Stabroek News that her brother had come home for the weekend. He stayed with their parents on School Street in the Tuschen Housing Scheme. He did not usually walk out of the Scheme but on this occasion, he did, she said. She related that her mother said that he had left the house at about 8:30pm. She said that usually her brother would take a taxi to take him to the main road but did not do so on this occasion and he was also walking down a dark, lonely street, something he also did not normally do.
According to reports, three men accosted Sukhai and his girlfriend. Stabroek News was told that one held on to the young woman while two went after him. It was not clear whether there was a scuffle before Sukhai was shot. "Me been in the bathroom wen me hear gunshots," one resident said. Relatives said that a bag containing Sukhai's police outfit was taken. He walked with another haversack which was not taken and when police searched his body at the scene, his wallet with all his money was recovered from his pocket. Bissessar said that his phone was taken.
The bag which the shooters took was later discovered by a resident and police took possession of it. The bandits also reportedly took a bag from Sukhai's girlfriend as well as a phone. After the shooting, one of the bandits fled in one direction while the other two fled in another direction, Stabroek News was told. Sukhai's girlfriend raised an alarm and the police were contacted.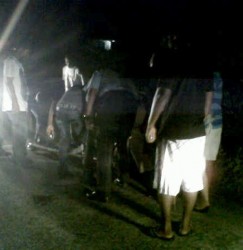 At the scene last night, residents said that there was a need for street lights and pointed out that crime in the community has been on the increase.
Sukhai was a graduate of the GuySuCo apprenticeship programme where he trained as a fitter and machinist. He worked at a number of places before joining the police force and began training on November 19. Police investigations are continuing.
The police today issued the following statement on the murder:
"The police are investigating the murder of Police Constable 22011 Harold Sukhai, 25 years, of Tuschen, EBE, which occurred at about 2030h. last night Sunday February 10, 2013, at Tuschen.
"Investigations have revealed that Harold Sukhai was accompanying his girlfriend to her home when they were attacked by three men, one of whom was armed with a firearm.
"The perpetrators took away the female's gold jewellery and her cell phone, during which Constable Harold Sukhai was shot to his chest.
" He was rushed to the Leonora Cottage Hospital where he was pronounced DOA.
"No arrest has been made as yet. "
Comments

A section of the Kitty Public Road is to be closed from Wednesday as the Ministry of Public Infrastructure steps up road works in the area.

Anil Nandlall Former Attorney General Anil Nandlall today rejected an explanation by Minister of State, Joseph Harmon over the government's directive to the Police Service Commission to halt promotions.

The improvised weapons (Prisons photo) Prison Staff this morning with the support of the members of the other services, reported for duty at the new holding area lusignan Prison.

Nicolas Maduro CARACAS/LIMA, (Reuters) – A group of 12 regional nations plus the United States rejected Venezuela's new government-allied legislative superbody, saying they would continue to regard the opposition-controlled congress as the country's only legitimate law maker.

Eighteen prisoners at the Lusignan penitentiary were being treated for injuries last night following a reported attempt to kill a fellow inmate during which warders fired shots.