Louisa Daggers describes herself as a "heritage enthusiast" and the newly appointed Anthropological Officer of the Walter Roth Museum of Anthropology has plans to advance the work of the museum, particularly in the academic field.
"I like heritage, it doesn't matter what heritage, it can be prehistoric, it can be historic. It is just one of those things when you think about it and you look at the way we treat it, it makes you want to cry," Daggers, who is qualified in anthropology and has worked in archaeology, said.
She said for this reason sometimes she is hesitant to go into the field because she would ask herself, "Seriously, this is what we have and this is how we are treating it?"
Daggers said she would like to see the museum enlarge its academic profile, since while it presently produces some scholarly material it has the ability to produce more.
"I would like to be that person, to push the museum in that direction…" Daggers said, explaining that there is a lot more archaeological research that can be done since at the moment the museum depends on international professors and archaeologists to do to research and they produce the material through their universities.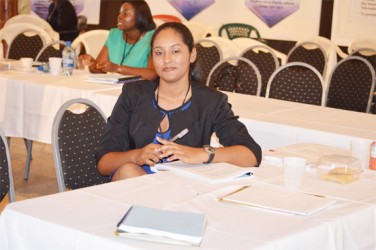 "However, we have the potential of doing our own research, producing our own papers… and I would like to see the museum head in that direction in the future, so that is why I am here," Daggers told the Sunday Stabroek.
She said the late Denis Williams, whose work in anthropology and archaeology is well known, did this, "So I would like to pick up from where he left off and take the museum to [another level]."
She said for this to be achieved there needs to be dedication, because interest in the field cannot be bought, rather people who are genuinely interested would have to be sought out. According to her there are young people who are interested but the opportunities and scope are not there.
To counter this Daggers said they would like to increase the programmes offered by the museum and in addition to the archeological work in the field school, they would like to resuscitate the anthropology component, and not just limit it to US-based masters students but expand it to include Guyanese students. She sees collaboration with the University of Guyana as key; hopefully, she said, it could become a credit programme at the university.
"In that way we are building the interest, we are building the capacity and those students − the possibility for them to be employed here will exist then because as it stands today we do not have a lot of persons with the experience and qualifications in the field of archaeology and anthropology," Daggers said.
Daggers said that former curator of the museum Jenny Wishart has been most of the driving force in what was happening with Amerindian research and the ethnographic collection.
She said that they are reaching out more to the public, because even though the museum is internationally recognized the public does not utilize it and many people are unaware that it even exists. "People don't know where the Walter Roth Museum is, so I think the ultimate goal for the next couple of years is to raise the awareness of the museum, the work of the museum because public awareness is important…" Daggers said.
Further, it is possible that in another couple of years there could be a public archaeology programme, as according to her archaeology is really in the service of the public; "it is to bring what is not in the light to light, and the only way you can do that is to have the public involved…
"So launching a programme that includes not only scholars but everyone else to be a part of this, it sort of builds interest… and they would begin to appreciate history and culture. Because culture is a big thing, culture is our identity and if we don't have that kind of appreciation for our culture then we are going to eventually lose our identity."
Daggers also pointed out that there is need for expertise in the area of conservation, among other things, since that is what most organisations are lacking although it is also a problem internationally.
'Long haul'
Pledging that she is in the business for the long haul, Daggers disclosed that her interest in museums began in her final year reading for a degree in Tourism at the University of Guyana, where her project was on the economic viability of museums in the tourism industry.
While reading for her first degree she was initially a tourism fanatic, as she saw the country going places with eco-tourism but it was during this process that she learnt more about the indigenous community. She had hoped to land a job at the Ministry of Tourism but this later changed.
"It was through [her final year project] that I started looking at the National Museum and the ability of the National Museum to generate income and revenue for the country, and eventually I got into the archaeology field school because in the Walter Roth Museum they do an archaeology field school, so I wanted a feel of what it was like because I always liked it…" she disclosed.
The field school, known as the Denis Williams Summer School of Anthropo-logy, Archaeology and Cultural Anthropo-logy was run by the Walter Roth in conjunction with Boise State University in Idaho, and entailed introductory work in the field of archaeology during which they learnt about pottery and how to go about looking at prehistoric items in a real life perspective. It was from there that she got employed at the National Museum where she remained for two years as an anthropological assistant, and later was transferred to the Walter Roth.
"I came over here because I wanted to be in the field of archaeology and anthropology, and this is the museum that is in tune with all of that," Daggers stated.
And it was while she was at the museum that Professor Mark Plew asked her if she saw herself remaining in the field, a question she had no difficulty answering, so he advised her to apply to Boise State and if she was accepted in the graduate college his department would grant her a scholarship. She was accepted and the scholarship was granted for her to do her masters. While the masters' programme was scheduled to last for 18 months, Daggers said she opted to complete it in 11 months. She returned to Guyana in July of last year and since she had resigned from her position, she volunteered initially, re-applied for a job and was re-employed in September of last year.
She always saw herself as being a part of the heritage world and noted that the field is not limited as conservation can be done with tourism. "The only way we can keep what we have is if communities and people learn to appreciate what they have, care for them and they can use them as an income generating tool. So the two don't fall far from each other, you can still use tourism in the field," Daggers said.
Comments
A thirty-year-old motorcyclist who last night allegedly rode into the rear of a stationary vehicle on the Wallers Delight Public Road, WCD, is warded at the GPHC in a serious condition.

(ICC) Antigua and Barbuda, Guyana and St Lucia were today announced by the International Cricket Council (ICC) as the venues for the ICC Women's World Twenty20 2018, which will be staged from 9-24 November.

The sugar union, GAWU today said that more sugar workers are to be made redundant.

(Trinidad Guardian) Education Minister Anthony Garcia says the University of Trinidad and Tobago (UTT) is of the view that the organisation is "overstaffed and to run the university efficiently it will mean they have to trim fat." But former Tertiary Education Minister Fazal Karim is warning that the decision to retrench 287 staff members, will "compromise the quality of teaching and learning and administration at the university," and may impact its accreditation with the Accreditation Council of Trinidad and Tobago (ACTT).

In preparation for Guyana's emerging oil and gas sector and the bustling business usually synonymous with the industry, the Pegasus Hotel is expected to undergo a huge expansion which includes office and residential rental spaces.