Justice Minnet Hafiz-Bertram was yesterday sworn in as a Justice of the Belize Court of Appeal by the Governor General, Sir Colville Young, at Belize House, Belmopan.
According to www.7newsbelize.com, Justice Hafiz-Bertram who is originally from Guyana, has served as a Supreme Court Judge in Belize since 2007. In attendance for her elevation were the Chief Justice Kenneth Benjamin and Justices Denis Hanomansingh, Michelle Arana and Courtney Abel. Justices Benjamin, Hanomansingh and Abel are also Guyanese.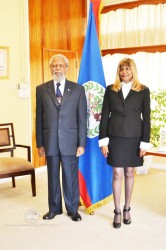 51-year-old Justice Hafiz-Bertram has been serving the Supreme Court of Belize since 2007, and her appointment to the Court of Appeal is expected to last until she reaches the age of 65.
The news website said she is expected to make her first appearance on the Panel of Justice at the next Court of Appeal session scheduled for March 12.
According to other reports, Justice Hafiz-Bertram studied law in Guyana and at the Hugh Wooding Law School, Trinidad and Tobago, where she received her Legal Education Certificate in 1997. She later became a member of the Guyana Bar, the Trinidad and Tobago Bar and the Belize Bar.
Comments

The Guyana Police Force is informing members of the public that the following roads will be closed to vehicular traffic for continuous road work at Kitty Roundabout on 2018-03-23 from 0800h.
An intoxicated driver has been taken into custody following a fatal accident which occurred about 20:25hrs last night on the Letter Kenny Public Road, Corentyne, Berbice, the police say.

As part of a continuing investigation into recent carjackings, yesterday ranks of the Guyana Police Force during an intelligence-led operation intercepted two vehicles and detained four persons in 'A' Division.

Even as he posited that Guyana was unequally matched in negotiations with ExxonMobil and other multinationals, British Professor of Economics and Public Policy, Sir Paul Collier last evening cautioned against pulling back the contract with the US company and affiliates, saying it can spell doom for Guyana's investment climate.

-SPU representative says efficiency improved by 40-45% Photos by Dhanash Ramroop Grinding has resumed at the Enmore Sugar Estate factory in a bid to make use of cane in the fields and to attract prospective investors.