President Donald Ramotar yesterday defended former President Bharrat Jagdeo's granting of radio licences to a number of persons days before demitting office, saying he believes the former head-of-state was fulfilling promises to de-monopolise the airwaves he made during his second term as president.
"I see it as a commitment that he had made firstly to break the radio monopoly and secondly to change some of the old laws that were there and to allow more liberalisation in this area… so I suspect he was fulfilling a commitment he made very early in his second term…from that point of view I don't see anything irregular," Ramotar told a news conference yesterday at Office
of the President.
The PPP/C government has come in for sharp criticism over the way radio licences were awarded. Applications for radio licences by the experienced media companies printing Stabroek News and Kaieteur News were ignored in the process without an explanation being given. Questions have also been asked about the criteria used to award radio licences and the persons who evaluated the applications. This process was done in secret and there were no explanations to the public.
In January of this year, several of the persons approved last year received their licences and some have already begun broadcasting daily, ending the decades-old monopoly maintained by the state-owned National Communications Network (NCN), formerly the Guyana Broadcasting Corporation (GBC).
Ramotar yesterday sought to clear the air on what he termed biased reporting that gave the impression that more than one station was given to a person. He reiterated that it was several frequencies that were granted.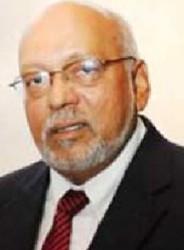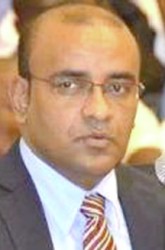 "[The argument is that] with frequencies it would allow you to create so many radio stations… that is not so. The frequency that would have been given is to facilitate the reach of these radio stations… the intention either by lack of knowledge or is by design to create the impression that so many people had so many licences and that just isn't so," he said.
Further, he said that many have sought to align those issued with licences with the PPP/C when this is not so.  "I don't think so…not in my view, because if you look at the list of names there are other names and I don't know if you can call them PPP. Rudy Grant, for instance … Alfro Alphonso, although I would love to have him in my corner …Maxwell Thom and I can go on…," he said.
The President stated that he was disappointed with recent reporting on the issue as many persons have never highlighted the matter of licensing pre-1992, when his government came to office.  "I am surprised that you are so vehement in raising there things…and you seem not to know that WRHM (Channel 7) had two television licences pre-1992 although they were never registered as a company, if you don't call that bias, I am very surprised at that," he declared.
In October of 2009, Stabroek News had reported on a ruling made by the Guyana Court of Appeal that the Government of Guyana was maintaining an unlawful monopoly on the airwaves and it said that the National Frequency Management Unit (NFMU) was not doing its job with respect to considering radio licence applications.
This decision was made to address a case brought by the owner of then Vieira Communications Limited (VCT), Anthony Vieira, who charged the NFMU with procrastinating over the years on radio licence applications. VCT had applied for a radio licence since 1993 and the court determined that both the government and the NFMU had failed to even acknowledge receipt of the application.
The court stated that eight years had elapsed since the establishment of The Committee on Radio Monopoly Non Partisan Boards and Broadcasting Legislation, set up by Jagdeo and Opposition Leader Desmond Hoyte and that there was no indication that a report by the committee had been compiled and submitted by the government.
According to the Appeal Court panel, no one has an absolute right to a radio broadcast licence. However, it also ruled that the application by VCT for radio broadcast privileges was attended to by indifference and callous discourtesy in that it never received acknowledgement of its application and a response from the NFMU, adding that more so, it was affected by inordinate delays on the part of the NFMU in giving consideration to the request.
Subsequent to this ruling, government voiced its commitment to liberalising radio broadcasting, saying that the ruling was consistent with its own position to end the monopoly on radio. Jagdeo himself had articulated his commitment to liberalise the sector, but stated that this would only be done after new broadcasting legislation would have been enacted. However, Jagdeo handed out radio licences even though the new broadcasting authority was not functioning. The new authority began to function after Jagdeo's approval of the radio licences for several prominent groups perceived to be close to the government, such as the Ramroop Group and Hits and Jams Entertainment.
Ramotar maintained yesterday that the NMFU was doing its work. "We have an independent technical board that are allocating these things," he said.
Comments

Legal Advisor to the Police, retired Justice of Appeal, Claudette Singh yesterday testified that there was insufficient evidence in the allegation made by Andriff Gillard of an alleged plot to assassinate President David Granger.

Today at 2 pm the 30 councillors of the Georgetown City Council will once again cast a vote on the future of metered parking in the city and several of them have told Stabroek News that they want to be sure their vote accurately represents a mandate from residents.

Crime Chief Wendell Blanhum yesterday made a written request to be recalled before the Commission of Inquiry (CoI) investigating the allegation of a plot to kill the President of Guyana to defend himself against "appalling" statements made by Assistant Commissioner of Police David Ramnarine.

Two men were yesterday remanded to prison by a city magistrate after they were charged with the fatal stabbing of Rawle Rodrigues which occurred in January.

Amid accusations that he has improperly tried to direct a constitutional commission, President David Granger said he had asked for a delay in police promotions to address complaints that have been made against law enforcers.