A seafood vendor was on Sunday night pronounced dead on arrival at the Georgetown Public Hospital after he was struck down on the Bee Hive Public Road, East Coast Demerara, by a Canter, which then drove off at top speed.
Dead is 35-year-old Danishram Prashad, also known as 'Dink' or 'Shrimps man' of Lot 52 David Rose Housing Scheme, Unity Village, Mahaica. He was the father of two girls aged one and three years old.
Nearo Prashad, the dead man's brother, told Stabroek News that about 9 pm on Sunday he received a call from an unknown person who told him that his brother had been involved in an accident.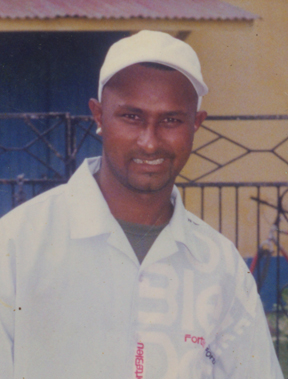 Prashad said and another brother rushed to scene which is about 10 minutes away from where they live. The visibly shaken man recalled that when he got there, he saw his brother lying on the ground and his motorcycle some distance away; he appeared lifeless.
"A couple minutes after the police arrived with their pick-up van and we put him at the back and carried him to the hospital. When we arrived at the hospital the doctors pronounced him dead on arrival," Prashad said.
He said he later learned that the driver of the Canter had driven away from the scene of the accident, without rendering any assistance.
Monica Bridgebookhan, also known as 'Nadira' said that she and Prashad were married for eight years and had two children together.
"The three-year-old daughter was asking for her daddy last night [and] saying that he would return this morning [yesterday]," Bridgebookhan said.
She said the children have not yet been told about what happened to their father because "they're too young to understand".
Steve Khan, who lives near where the accident occurred said that about 9 pm he was awakened by a loud smashing sound. "When I look outside all I see is the man [Prashad] on the ground and the Canter heading straight up the road in one speed," Khan said.
He went outside and saw that the man was lying face down, bleeding from his head. Other persons also converged on the scene. "When dem man turn he over then we see was 'Shrimps man' get knock down and a man call he brother dem," Khan recalled.
A post-mortem examination done by Government Pathologist Dr Nehaul Singh revealed that Prashad died of multiple injuries about his body.
Prashad was described as a hard-working father who was sole breadwinner of his home. He was also said to be a very friendly person who would always make sure his relatives were taken care of.
A police source told this newspaper that the driver of the Canter has not yet been caught but four men who were passengers of the vehicle are in police custody assisting with the investigation.
Comments

Wijeyadasa Rajapakshe   COLOMBO, (Reuters) – Sri Lankan President Maithripala Sirisena today sacked the justice minister over his criticism of a $1.1 billion deal, signed last month, to lease a port to a Chinese company, the cabinet spokesman said.

NEW YORK,  (Reuters) – Two Harvard University researchers said in a study published today they had collected scientific data proving Exxon Mobil Corp made "explicit factual misrepresentations" in newspaper ads it purchased to convey its views on the oil industry and climate science.

In the wake of rising bad loans and a massive alleged fraud against it this year, the Guyana Bank for Trade and Industry (GBTI) has posted an unaudited net after tax profit of $603m for the first six months of this year compared to $961m in the same period for 2016.

Vamanadev Hiralall, of the privately-run Saraswati Vidya Niketan (SVN), is the country's top performer at this year's Caribbean Advanced Proficiency Examinations (CAPE) after achieving an accumulated 13 grade one and 3 grade two passes.

Twenty-six students in the top one percent of the 12,684 who sat this year's Caribbean Secondary Education Certification (CSEC) examinations earned 12 or more Grade I passes, with half of them, including the top performer, coming from Queen's College (QC).