A resident of the Amerindian reservation community of Capoey, on the Essequibo is Guyana's latest maternal death and her family is seeking answers from the Suddie Hospital.
Sharon Edwards, 42, died at the Georgetown Public Hospital (GPH) at around 8pm on Easter night, a day after being referred from the Suddie Hospital, where she underwent a caesarean-section, developed complications during  surgery and fell into a coma.
Officials at the GPH would only confirm the death and informed that the woman's autopsy would be performed today.
Her baby, a girl who has been named Yolani Edwards, survived the operation and is home on the mission with the rest of her siblings and the father Oswald Edwards, who remained too distraught to speak yesterday.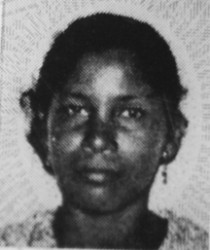 According to Edwards' family, the staff at the Suddie Hospital should take some responsibility for her death. Gail Edwards, her eldest daughter, told Stabroek News that her mother had complained of excruciating stomach pains and was rushed to Suddie on Saturday afternoon. She had been eight months pregnant. She underwent tests at the hospital and was diagnosed with high blood pressure.
"She cried out for her stomach but it was baby pains… we took her there and the pressure was very high, so they said they would give her something and wait for it to be normal before they do the surgery," Gail said.
"We don't know what happened but they did the C-section and got the baby then something was not right and they had to take her for another surgery… all this time she was unconscious… they said she had internal bleeding and some kind of fluid and said she had to go to Georgetown," she continued.
Her mother, Gail said, never regained consciousness and her family was informed of her death at around 8pm on Easter night.
An uncle of the deceased, Ralph Hendricks, who accompanied her to the city, lamented the treatment they received both at the Suddie Hospital and the GPH.
In addition, he said now the family is seeking assistance in getting the woman's corpse back to the mission as only $30,000 will be given by the Ministry of Amerindian Affairs but over $150 thousand is needed to transport the body down the river and into the reservation. He explained that burial is not the problem as the community has its own burial ground and funeral services are not costly there. "We will be grateful for any help we can receive because it's very, very expensive, the transportation, and then we will have to charter a boat to get the body into the lake," he said.
Gail explained that her mother was a housewife and also assisted with a cottage industry business to assist her husband with the family's income. She said now her family will also be grateful for whatever public assistance they can receive, especially for the newborn Yolani.
Chief Medical Officer (CMO) Dr Shamdeo Persaud had told this newspaper during an interview last  year that the  findings on some of the maternal deaths indicated that there was laxity on the part of doctors as patients were not managed according to protocol. He also gave hypertension and eclampsia as the two leading causes of maternal deaths in Guyana.
United Nations Resident Representative in Guyana Khadija Musa, at the launch of the State of the World 2013 report, recently told Stabroek News that maternal mortality is one Millennium Development Goal that seems difficult for this country to achieve by the 2015 deadline. "One goal tha
t seems difficult for Guyana to meet by 2015 is MDG 5, maternal mortality. I would point that as a pressure point for Guyana… I know they are doing everything that they can but it seems hard," she said.
Comments
British High Commissioner to Guyana Greg  Quinn  yesterday said that it was hoped that more would have been done to push the constitutional reform process forward.

A West Coast Berbice man died after he reportedly set his one-storey house ablaze sometime around 11.20 am yesterday.

A Yarrowkabra miner was yesterday charged with the murder of a co-worker, whom he allegedly beat to death during an alcohol-fuelled clash last Saturday at a dredge site in the Potaro Backdam.
A court action was yesterday filed challenging a directive issued in the name of President David Granger to the Police Service Commission (PSC) for a hold to be placed on planned promotions this year, Attorney Rajendra Jaigobin, who operates from the Chambers of former Attorney General Anil Nandlall, is seeking the following declarations by the court: "a declaration that the Police Service Commission, a Commission established by the Constitution of the Cooperative Republic of Guyana, in the exercise of its functions shall not be subject to the direction or control of any other person or authority;
UK security expert Lt Col (rtd) Russell Combe, who is working closely with the Guyana government to resuscitate the Security Sector Reform Action Plan (SSRAP), will be broadening his mandate to assess the country's prison situation.