Police Corporal Nafaste Morris, who was caught on camera beating persons along a trail at Marudi Mountain, South Rupununi last month, was yesterday charged with four counts of assault, including on a 10-year-old boy.
Morris, 31, of Lot 7 Ogle Front, East Coast Demerara, was granted a bail release in the sum of $80,000 by Magistrate Sueanna Lovell at the Georgetown Magistrates' Court, where he pleaded not guilty to the charges.
Morris, a member of the Tactical Services Unit, is charged with committed the assaults on March 2, at Marudi Mountain, South Rupununi, on Errol Prince, his wife Verona Prince, Otillo Perreira and a 10-year-old boy.
Police Prosecutor Sergeant Alexis David-Hosannah told the court yesterday that Morris was trying to remove some illegal miners by pushing them off of the road. She said that the persons then tried to advance on the officer and he picked up a piece of a tree limb from off of the road and dealt them a few lashes on their hands and their feet.
David-Hosannah said that after the incident was reported, the officer was arrested. She also noted that a video had been made of the entire episode.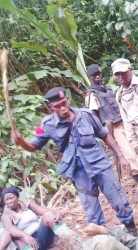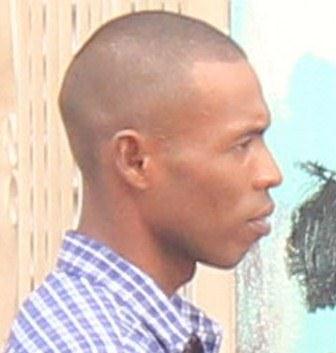 Morris' attorney Patrice Henry asked that his client be admitted to bail in a reasonable sum since he posed no risk of flight. Morris had remained on active duty while the investigation was conducted.
David-Hosannah had no objections to bail, which Magistrate Lovell set at $20,000 on each charge.
The matter will be called again on May 20.
The video of the assault, which was uploaded to YouTube with the title 'Police brutality in Marudi Mountains,' caused outrage after it gained wide circulation online. It showed a group of policemen and Guyana Geology and Mines Commission (GGMC) mines officers standing around as the rank inflicted blows on men who were trying to protect Verona Prince and the boy.
After the video of the beating went viral, acting Police Commissioner Leroy Brumell subsequently asked the police commander in the area for a full report and police investigators had been dispatched to conduct a probe into the incident.
Comments

In preparation for Guyana's emerging oil and gas sector and the bustling business usually synonymous with the industry, the Pegasus Hotel is expected to undergo a huge expansion which includes office and residential rental spaces.

Police Commissioner Seelall Persaud is to resume his duties today after spending approximately six months on leave, Public Security Minister Khemraj Ramjattan yesterday confirmed to Stabroek News.
The Alliance For Change (AFC) yesterday launched a scathing attack on the union GAWU, accusing it of decades of sabotage of the sugar industry and not genuinely representing the interests of its workers.

The importance of foot health, especially for persons with diabetes, was emphasized by Podologist Yvonne Braithwaite yesterday, when she launched the local leg of Rovon Health Care Inc, which includes a foot spa.

All local and international bidders for government contracts are being asked by the National Procurement and Tender Administration (NPTA) Board to complete a NPTA Supplier Registration form to obtain a registration number which they can use on bidding documents for quick database referencing.