Residents of several coastal communities today woke to find their yards and homes under several inches of muddy seawater after windy conditions in the Atlantic propelled 1.5 metre swells, riding on 3.11 metre tides over various sea defence structures.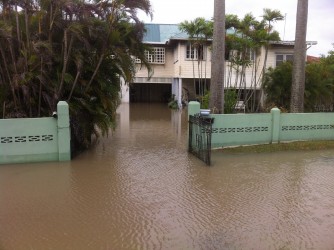 According to Works Minister Robeson Benn, West Bank of Demerara villages of Dem Amstel and Lenora were affected by the flooding while areas between Liliendaal and Vlissingen Road, along the Rupert Craig Highway, were also affected.  Stabroek News also understands that the West Bank village of Uitvlugt, as well as several coastal communities along the Essequibo River were under water up to midday yesterday.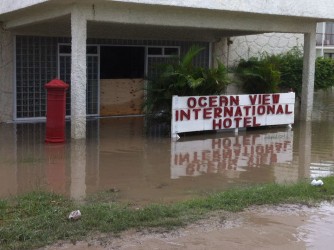 Benn said that the Rupert Craig Highway, in the vicinity of the Russian Embassy had been made completely impassable by large deposits of shells brought over the seawall by the high waves and had thus been closed off to facilitate their removal. The Minister also said that the area would remain closed off to the public into the evening hours since 2.9 metre tides were expected and the ministry was not sure if there would be a recurrence of this morning's phenomenon.
Benn said that prolonged flooding in areas along the Rupert Craig Highway was caused by clogged drains which prevented the water reaching the pump at Liliendaal. He said that the pump was more than capable of "taking off the water," but said that the clogged secondary and tertiary drains were preventing this from occurring.
As such, the many patrons who were looking forward to the "Sunday Seawall Lime," will be disappointed.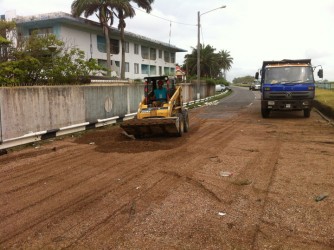 Comments

Attorney, Dr Arif Bulkan is to be sworn in as an acting Justice of Appeal tomorrow.

GPL says that some of its customers on the West Coast and East Bank of Demerara experienced unusually lengthy power cuts as a result of heavy winds and rain last evening and early this morning.

Alliance for Change (AFC) leader Raphael Trotman yesterday said the diversion of billions to the security sector after the destruction of the Camp Street prison was partly responsible for the government not budgeting the full sum for severance payments to laid off sugar workers.

The police were up to yesterday afternoon still working to ascertain the motive behind the murders of Ambrose Baharally and Martin Godette, the Pomeroon farmers who were shot dead on Sunday and a potential witness was taken into custody to assist with the investigation.

Former President Donald Ramotar has accused the current government of accepting loans from India that he initiated except those pertaining to the rehabilitation of the sugar industry but State Minister Joseph Harmon says he is unaware of the claim and has urged that the former head of state prove it.