Nurses and auxiliary staff attached to the West Demerara Regional Hospital (WDRH) yesterday began a sit-in to press regional authorities to address the lack of security at the facility as well as demands for allowances and the confirmation of appointments.
The workers, through the Guyana Public Service Union (GPSU), have given regional authorities until Thursday to address their concerns or face intensified industrial action, including a strike.
Nurses told Stabroek News yesterday that the lack of security for the hospital compound has resulted in numerous safety concerns for both staff and patients.
"The place is really dangerous at night and the lights aren't on and the grounds are neglected so security is needed more, but there aren't enough guards to protect staff and patients," one nurse said. Another stated that "there are only five or so guards for the entire place and yesterday a dog bit and injured a child." She added that the grounds were not being effectively patrolled and the current system of guards monitoring the area "makes no sense because they just getting hired, but just standing around."
Nurses also stated that the WDRH is under new management and that promises were made. However, "we think we need to put pressure on the new people in charge because they have to not let things like this continue onward," one of them stated.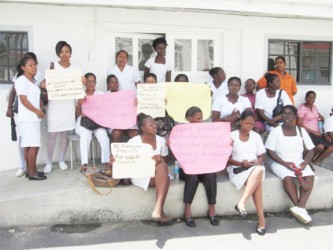 According to Monica Walters, Region Three GPSU representative, the regional authorities had to assist the staff and the management in overhauling the current security arrangements, among the other issues. Walters stated that the GPSU met Deputy Regional Executive Officer Adempo Peters to discuss what needs to happen immediately to prevent further action on behalf of the staff. Later on in the day, Donald Gajraj, Regional Executive Officer (REO), met President of the GPSU Patrick Yarde to ensure that all the correct procedures were being followed prior to strike action being taken if the situation escalated. Dennis English, of the GPSU, stated that on Thursday the union will once again speak with the REO and if the immediate concerns have not been met then a strike was a possibility.
Walters stated that "by Thursday we want the region to start implementing a new security system, the guards need to all be in uniform so staff and patients can identify who they are." She added that a training programme is necessary for guards to understand the expectations placed on them.
In addition, Walters said that Thursday would also be a deadline for nurses to start receiving their uniform and shoe allowances and for the confirmation of those who are currently holding posts in acting capacities, such as the head matron.
The nurses stated that for years the hospital has been understaffed and positions have not been filled with qualified personnel, and they blamed the lack of cohesion between managers for the facility being understaffed, underequipped and unsafe.
Nurses said that the waste disposal system is an area that needs to be addressed along with the lack of potable water and water for washing.
"We know it can't happen overnight, but it so overbearing at this point, we want to be safe at work and we want patient care to be the best it can [be]," one nurse said. "All hospitals are dealing with these same issues; they don't want to pay us for our allowances and gratuity and the working conditions are disastrous," another added.
Comments

Nicolas Maduro CARACAS/LIMA, (Reuters) – A group of 12 regional nations plus the United States rejected Venezuela's new government-allied legislative superbody, saying they would continue to regard the opposition-controlled congress as the country's only legitimate law maker.

Eighteen prisoners at the Lusignan penitentiary were being treated for injuries last night following a reported attempt to kill a fellow inmate during which warders fired shots.

A 12-year-old girl is now dead, while her brother narrowly escaped a similar fate yesterday after their aunt's La Bonne Intention (LBI), East Coast Demerara house, which they were under, collapsed on them.

Guyana has officially applied for membership in the European Union's Extractive Industries Transparency Initiative (EITI) which will help in tracking revenues from oil and other natural resources.

State Minister Joseph Harmon yesterday reiterated that President David Granger's directive to the Police Service Commission to halt its consideration of promotions was intended to prevent damage to the image of the Guyana Police Force but he could not say under what authority the head of state acted.