Roopnaraine calls for thorough scrutiny of Bai Shan Lin investment agreements
Vice Chairman of A Partnership for National Unity (APNU) Dr Rupert Roopnaraine is calling for the agreements between the government and Bai Shan Lin to be made public and brought to the Parliament for scrutiny.
Speaking to Stabroek News over the weekend, Dr Roopnaraine said it is difficult to escape the conclusion that the Bai Shan Lin development project is just another case of Chinese money being dangled in the face of the government, not unlike the Cheddi Jagan International Airport expansion project.
He said that he is appalled that there has been no scrutiny of the agreements governing the planned investments by the Chinese company.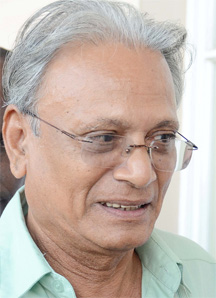 "I was completely taken aback," he said, upon seeing the scale of the projects in the presentation. He said the magnitude of the ventures were of a scale that he had
not imagined. "All of the agreements must be laid in the National Assembly," he said. "I do not understand how you could embark on such an investment without the scrutiny of the National Assembly," he said.
"It is a matter of grave concern and it must be subject to scrutiny, either in the National Assembly or in the sector committee," said Roopnaraine.
Bai Shan Lin recently announced an ambitious US$100 million investment plan to develop its holdings in Guyana, which includes a forest concession of 960,000 hectares, a 20-kilometre river gold mining concession, a 5km2 construction area for a Guyana-China Timber Industry Economic and Trading Cooperation Park and 400-acres land for real estate development.
Minister of Natural Resources and the Environment Robert Persaud says Bai Shan Lin has guaranteed that the majority of logs harvested would be for local processing since its planned wood processing facility would need a steady supply. According to the minister, the wood processing facility will be in operation come 2015. The company has recently advertised for 100 positions in various areas.
According to a presentation by Bai Shan Lin Chairman Chu Wenze, which was made at the 2nd World Congress on Timber & Wood Products Trade in China last year and recently seen by Stabroek News, the company's ventures in Guyana are listed as Guyana Bai Shan Lin International Forest Industry Development Co Ltd founded in 200
5; Haimorakabra Logging Company Inc; Demerara Timbers Limited; Karlam South American Timber (Guyana) Inc; Wood Associated Industries Ltd; Kwebanna Wood Products Inc; Sherwood Forests Inc; Baishanlin Mining Development Co Ltd (2012); Baishanlin Real Estate Development Co Ltd (2012); Baishanlin International Shipmaking Co Ltd (2012) and Baishanlin Guyana Chinese Products Mall (2012).
There is concern that 400 acres of forested land would have to be clear cut to make way for the housing investment, however, the presentation document focuses largely on the Economic and Trading Cooperation Park—to be constructed at Providence—and the forestry investment.
It explains that the park is a state-level park programme in Guyana to be supported with national subsidy for loan interest and that the enterprises in the park would be entitled to subsidy for carrying back resources. The park is based on the timber industry and planned to contain 50 enterprises, including a ship-making plant, a wood machine processing and manufacturing plant, food and sea product processing plant and a hospital and school.
The company said its park will include an investment centre to provide consultation for Chinese investors on Guyanese policy and legal requirements, in addition to providing registration service for Guyanese enterprise, customs and tax declaration for Guyanese enterprise and setting up a Guyana Investment Visa Service Centre to provide Chinese investors with visa service to Guyana. It will also provide business services, such as exhibition negotiation in Guyana, and provide storage, transportation and security services in Guyana.